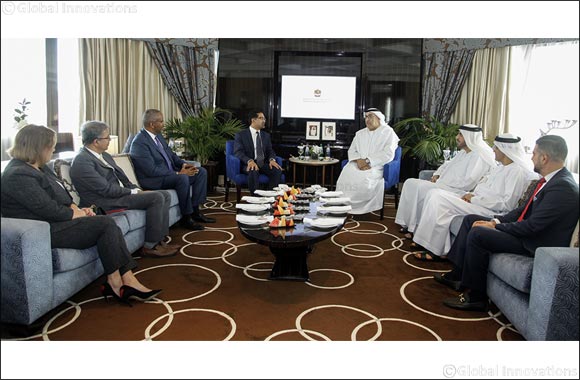 Health Minister and Pfizer delegation review innovative healthcare services
Al Owais: Our wise leadership's directives played pivotal role in creating conducive investment environment for leading international medical and pharmaceutical companies
Al Olama: Ministry of Health strikes new partnerships to launch and implement initiatives and projects, focusing on upgrading the quality of healthcare services
Dr. Yousef Al-Sarkal: We intend to develop an innovative system to support self-care for heart patients, launch a one-year awareness campaign and implement training programs to improve the medical team's competence.
UAE, Dubai, April 20, 2019: HE Abdul Rahman bin Mohammed Al Owais, Minister of Health and Prevention (MOHAP), met Dr. Amrit Ray, the Global President, R&D and Medical, Pfizer EMB, to discuss the possibility of establishing a scientific research and Excellence hub in the UAE.
Al Owais and Dr. Ray also discussed mutual efforts to fight chronic diseases and develop innovative and integrated solutions in the field of cardiovascular diseases, according to the latest global clinical practice. They also took stock of the importance of harnessing modern techniques to provide effective patient management solutions.
Present at the meeting were Mohammad Salim Al Olama, Under-Secretary of the Ministry of Health and Prevention, assistant undersecretaries, Menassie Taddese, Regional President of Emerging Markets, Pfizer EMB, Ayman Mokhtar, General Manager for GCC, Iraq & Iran, Pfizer EMB, and Chandrashekhar Potkar, Regional Medical Affairs Lead for Emerging Markets, Pfizer EMB.
The meeting comes as part of the ministry's efforts to achieve key performance indicators of the National Agenda, which aims to reduce cardiovascular disease mortality by 25% in the UAE by 2021.
The first NCDs global Excellence centres
The meeting tackled the establishment of the first national authority to adopt centres of excellence and to set standards for the care of patients with cardiovascular disease, based on the best international clinical practices, evidence-based practice and the foundations of scientific research. Pfizer confirmed its intention to use international and local expertise in this field, including the academic, clinical and organizational scope.
Real world evidence and insights analytics Centre of Excellence
The talks touched on important topics including the establishment of a "Real world evidence and insights analytics Center of Excellence" in UAE as the first country in MENA. The centre will focus on improving the public health and well-being, driving innovation, and supporting early stages of research in the field of Non-communicable diseases (NCDs) (particularly Cardiovascular, Pain, Mental Health, Urology, and Diabetes).
Pfizer global president stressed the company's keenness to bring in to the centre expertise, networks, pilots in specific areas around education, research (risk factor assessments, real world evidence) and digital.
Strategic Partnerships
Al Owais reiterated the strategic importance of the Ministry- Pfizer partnership, especially when it comes to launching national initiatives and projects, which cement the wise leadership approach and MOHAP strategic objectives of developing state-of-the-art infrastructure for medical facilities and providing optimal healthcare services for patients nationwide.
He also pointed out the national plans of action that explore the future directions of health care, to establish advanced predictive models of patients, and to update the health legislation necessary to control diseases, in order to serve the national indicators that the National Agenda for Vision 2021 is achieving.
"Our government directives have played a vital role in creating a conducive investment environment for leading international medical and pharmaceutical companies. They also helped facilitate procedures of opening regional scientific offices for biopharmaceutical research companies, which resulted in the UAE becoming a leading global model in proactive planning for future challenges", the minister said.
Creating Global Partnerships
For his part, Mohammad Salim Al Olama said: "The ministry's partnerships with Pfizer and other global companies have reached new heights. This would help establish an effective and sustainable healthcare system as per the best international specifications".
"The ministry is always keen to strike local and international partnerships to launch initiatives and implement projects that contribute to improving the quality of healthcare services offered to patients in the field of chronic diseases, indicating the ministry's determination to benefit from the huge data technologies and artificial intelligence, digital health, and the establishment of national centres specialized in disease control and prevention."
Innovative programs for patients' self-awareness and self-care.
HE Dr. Yousef Mohammed Al Serkal, Assistant Undersecretary for the Hospitals Sector, said that: "The ministry and Pfizer will co-organise an awareness campaign under the theme "Keep on Beating" in bid to make positive lifestyle changes, diagnose at-risk cases and support patients during treatment journey. The campaign will help promote public awareness and educate people of risk factors associated with cardiovascular diseases. He also stated that the cooperation also includes the implementation of training programs to increase the medical team professionalism to provide the best health services, as well as the development of an innovative system to support patient's self-care.
Innovative Patient Solutions
In the same vein, Dr. Amrit Ray, Global President, R&D and Medical for Pfizer's new NCDs-Focused Division, said "Despite significant medical advancements, NCDs such as cardiovascular diseases continue to be the leading causes of death and disability worldwide, requiring innovative and high-quality healthcare solutions. We are honored to collaborate with the UAE Ministry of Health and Prevention to develop a "NCDs Center Of Excellence" in the UAE. We look forward to partnerships that advance research and access to relieve the burden of NCDs and improve the health