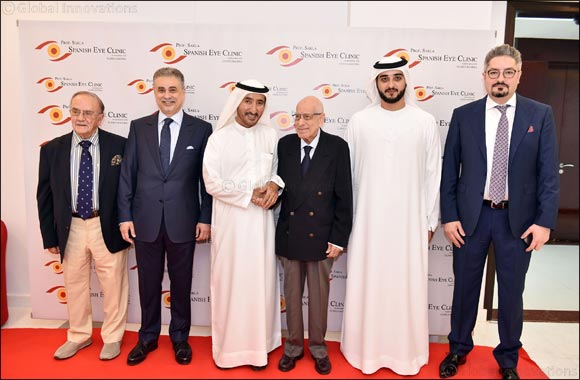 Monday, April 29, 2019: City of Dubai had accommodated the grand opening of Prof. Sakla Spanish Eye Clinic as part of the expansion plan of Ebsar Eye Center in association with Clinica Baviera – The largest group of ophthalmological hospitals in Spain, Europe & China - at McLaren Building, Sheikh Zayed Road at 11:30 am; The opening ribbon was cut in the presence of His Excellency Humaid Mohammed Al Qatami, Director General of Dubai Health Authority and Kholeta Cazanova, Commercial Counsellor at the Embassy of Spain, as well as a large number of VIP and Media personalities.
Professor Sakla Spanish Eye Clinic is established and owned by the renowned Eye Surgeon Professor Hani Sakla, consultant in ophthalmology at Ebsar Eye Surgery Center in Dubai, and member of the American Academy of Ophthalmology and the American Society of Cataract and Refractive Surgery; The clinic is integrated and specialized in many fields such as Lasik, Eye Cataract, Glaucoma, diabetes complications, femtosecond surgery, conical cornea treatment, and retinal diseases; Moreover, a special section was found to carry out children's eye exercises to prevent Amblyopia (Lazy eye) and strabismus treatments; as well as inserting artificial intelligence for the first time in sorting the diabetes disorder to determine the extent of the damage before deciding the eligible cases for treatment.
Professor Sakla Spanish Eye Clinic involves a team of ophthalmologists who are specialized in all fields including Lasik and cataract surgery, and are keen to contribute to the creation of many new and significant technologies worldwide, as well as assigning qualified doctors with international experiences characterized with high skills and successful components to provide highest levels of services in all ophthalmology fields such as Dr. Sonia Amoros, MD, MIR (Opht), Cataract and refractive surgery consultant from Spain and Dr. Tina Eckert German Board Certified Consultant of Ophthalmology and Ophthalmic Surgeon.
Dr. Hani Sakla is characterized by his continuous successes and endless achievements; He had performed live surgeries that were broadcasted to several countries directly from Ebsar Eye Center in March 2019, and has many studies published in international peer reviewed journals including the journal of Ophthalmology from the American Academy of Ophthalmology AAO, the Journal of Cataract and Refractive Surgery from the American Society of Cataract and Refractive surgery ASCRS, the journal of refractive surgery from the International society of refractive surgery ISRS, and many others.
The opening was attended by Sheikh Butti bin Maktoum Al Maktoum, Sheikh Maktoum bin Butti Al Maktoum, Doctor Marwan Al Mulla CEO of the Health Generation Sector at Dubai Health Authority (DHA), Dr. Ramadan Al Balooshi Chief Executive Officer (CEO) of Dubai Healthcare City Authority – Regulatory (DHCR), Dr. Mouza AlSharhan Director of the Emirates Medical Association, Professor Muscat Baron Clinical Dean at Dubai Medical College, as well as a large number of doctors, business men and celebrities in United Arab Emirates.