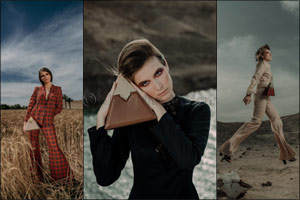 June 11, 2019 - Dubai, UAE
Contemporary Egyptian brand, ZAAM, is known for cutting-edge design rooted in century old heritage and art. Each design is inspired from a unique component of Egyptian history, architecture, or events that have shaped modern Egyptian culture. All of the unique styles come with a defined shape, detailed with accents of metal alluding to a baroque art influence.
This season, ZAAM is reinventing their 2014 signature 'Polyhedron' pyramid-shaped bag that became loved by celebrities, style icons, and socialites region wide. Mrs. Keepa, Tara Emad, Kat Labresse, Heba Serag Eidin, and Duha Shabib are a few of the names that made the Polyhedron a staple piece in their wardrobes. The newly launched handbag, hears to the name 'Polyroque' which quite literally describes its' polyhedron shape combined with the baroque metallic details that define the brand ('Poly' from Polyhedron and 'roque' from baroque). The 'Polyroque' is available in two different shapes and sizes and in a wide range of colors that celebrate female versatility and individuality.
This year's editorial frames the 'Polyroque' in its natural environment, photographed in the upper Egypt desert, by photographer Youssef Talaat featuring French model Victoria Daniele. The bag's traditional elegance comes to life through the series that moves from a rusk dry setting, to desert oasis, to sandy dunes. The visuals showcase the product styled in three very different ways (with an accent printed suit, little black dress, and elegant top / pants combo) highlighting both its versatility as well as how it adds a distinct element of fashion to every look.
ZAAM handbags are carefully crafted in Cairo, Egypt with acute attention to composition and detail. The brand celebrates a superior quality and unique design offering, which together drive it to the forefront of the Egyptian and regional accessory industries.
The 'Polyroque' is now available in Zaam stores across Egypt and select locations in the UAE.