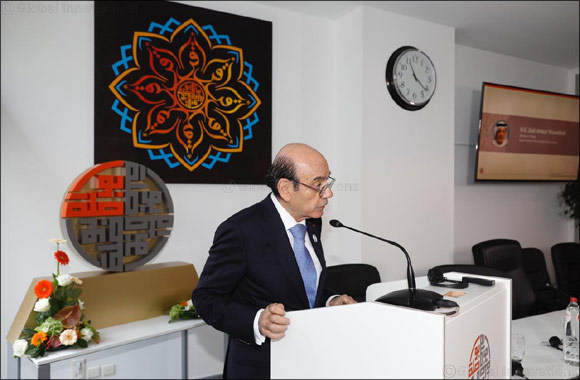 Abu Dhabi, United Arab Emirates, 15 June 2019: His Excellency Zaki Anwar Nusseibeh, the UAE Minister of State delivered an address at the Bussola Institute in Brussels, to commemorate the 75th anniversary of D-Day, the largest seaborne invasion in history that turned the tide of World War II.
The Bussola Institute, a platform for independent research, dialogue and mutual respect between the Gulf Countries and Europe served as the ideal venue to mark this esteemed occasion with His Excellency's moving, succinct, passionate, and powerful statement that renounced intolerance, extremism and the 'dehumanization' of immigrants.
HE Zaki Nusseibeh said in a statement, "Populist political leaders, false religious preachers, ethnically motivated parties and social or economic fear mongers are gaining prominence in different parts of the world who base their rhetoric on an ideology of exclusion and disdain. We see it in the rising political tones of a populist rhetoric that seeks to ensnare communities into building walls of protectionism around them to replace the decades of successful bridge building to other communities and nations".
The political leader attributed the rising tide of intolerance to three factors, namely; human insecurity, political or geopolitical manipulation and the diminishing of public space. He offered effective solutions by reading out a statement, "In the UAE we are taking the challenge head on by declaring 2019 the Year of Tolerance. This aims to raise awareness of tolerance as a universal concept and to enact policies and practices aimed at sustainably embedding the values of tolerance, dialogue, coexistence and openness to different cultures. As part of this special year, we are immensely proud that in February, the UAE became the first country ever in the Arabian Peninsula to welcome His Holiness the Pope".
He added, "The document also stresses the requirement to recognize the right of women to education and employment, and that efforts must be made to free women from historical oppression. This is a powerful call to action, a call to embrace tolerance, meant for each and every one of us. The call to embrace the hard work of understanding one another, of determining the way forward together and then staying the course, with a fearless and open mind."
Among his recommendations to encourage cooperation and tolerance between nations, His Excellency elaborated on the dire need to enhance dialogue within and between cultures, firmly counter extremist narratives, and the necessity for awareness and bold leadership.
He closed with a powerful sentiment, "Let us work together in common cause to undermine those who would seek to exploit these vulnerabilities for their own ends, by stoking intolerance and division. Let us focus not on what separates us but on our common commitment to, as Chancellor Merkel put it, 'openness, tolerance and respect'. So now let me conclude by reaching out from the United Arab Emirates, and commit to working with you to reinforce these values so that we can all look forward to an increasingly tolerant future".