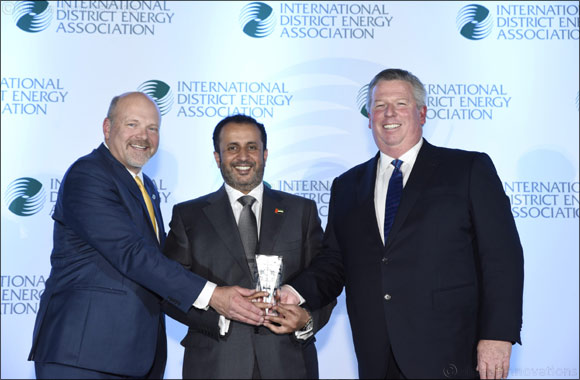 Dubai, UAE, 10th July 2019: Emirates Central Cooling Systems Corporation (Empower), the world's largest district cooling services provider, announced launching an intelligent system to detect lost energy, and receiving the Innovation Award Honorable Mention for its "Intelligent Delta — T Analyzer & Detector" technology, This supports Empower's continuous efforts to come up with more sustainable, innovative, environmentally-friendly, and energy-efficient products.
Empower highlighted that its Intelligent Delta — T Analyzer & Detector technology automatically searches and detects lost energy from central cooling plants and buildings benefiting from the service, and helps to avoid misuse of district cooling systems.
Empower stressed that, through the implementation of this innovative system - the first of its kind in the world - it has been able to, raise productivity and operational efficiency, optimise the energy produced at central cooling plants, and reduce wasted energy in buildings to meet the growing demand for energy and achieve customer satisfaction.
"Empower's recent awards push us to strive to make more achievements and innovations in district cooling, and work on saving energy and reducing carbon emissions by using Artificial Intelligence (AI) systems, to support the transformation towards a green economy in the UAE," said Bin Shafar.
"This unique technology, which we use in all our cooling plants, automatically searches for energy wastage from central cooling plants and buildings, and works to solve the problems," noted Bin Shafar.
"Technological innovation is the next stage in entrepreneurship. It plays a major role in companies and organisations to gain competitive advantages over the coming period. Since inception, Empower employed a specialised team that develops applications using AI technology, to help to preserve energy, and build a sustainable green economy for future generations," continued Bin Shafar.
"Empower's innovations effectively contribute to supporting the vision of our wise leadership, which pays great attention to sustainability for the preservation of the environment for future generations. Our wise leadership has called on everyone to address the challenges of climate change, which is a real obstacle to growth and prosperity," said Bin Shafar.
The award was presented to Empower at the 110th International District Energy Association (IDEA) Annual Conference & Tradeshow 2019, which was held in Pittsburgh, USA, last June.
Bin Shafar stressed that Empower adopts national strategies supporting sustainability and protecting the environment, notably the UAE Vision 2021 and the UAE Energy Strategy 2050, which seeks to increase the contribution of clean energy in the total energy mix to 50%, the National Climate Change Plan 2017-2050, and the long-term national initiative to build a green economy in the UAE under the slogan 'A green economy for sustainable development', launched by His Highness Sheikh Mohammed bin Rashid Al Maktoum, Vice President and Prime Minister of the UAE and Ruler of Dubai, which leads the UAE to become pioneer in the field of the new green economy globally.
Empower provides district cooling services to more than 1,090 buildings, catering to more than 100,000 customers. The company operates more than 1.43 Million Refrigeration Tons (RT), providing environmentally friendly district cooling services to large-scale real estate developments, such as Bluewaters, Jumeirah Group, Business Bay, Jumeirah Beach Residence, Dubai International Financial Centre, Palm Jumeirah, Jumeirah Lake Towers, Ibn Battuta Mall, Discovery Gardens, Dubai Healthcare City, Dubai World Trade Centre Residences and Dubai Design District, International Media Production Zone and others.