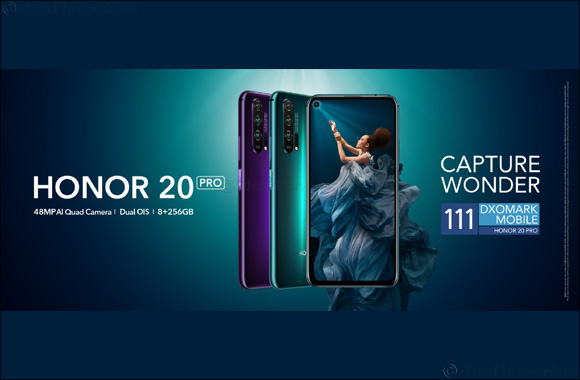 The smartphone becomes the most versatile and powerful camera ever of our time
United Arab Emirates, Dubai, July 23rd, 2019: HONOR, the leading smartphone e-brand, offers a multipurpose smartphone with the latest HONOR 20 PRO designed to provide impactful and benchmark quality photos and videos without any compromises on the other features. Packed with innovative smartphone camera photography and videography technologies, HONOR 20 PRO has risen to the top of DxOMark (an independent benchmark that scientifically assesses image quality of smartphones, lenses and cameras) making it a smartphone camera to reckon with.
DXO Mark's full camera test of HONOR 20 PRO arrived will an overall score of 111 points making it one of the highest scores of all time and achieving a rank of world no. 2. HONOR 20 PRO boasts of an outstanding DxOMark evaluation supported by an excellent performing camera featuring a dual Image stabilization system: Optimal Image Stabilization (OIS) and Artificial Image Stabilization (AIS).
Both the 48MP ultra clear camera lens and the 8MP telephoto camera lens are powered by 4 axis OIS that help achieve the best possible results of images and videos show in low light or while in motion.
Chris Sun Baigong, President of HONOR MEA: "Undoubtedly, the camera has become one of the most integral parts of the modern smartphone. HONOR 20 PRO brings together powerful hardware and software, all packed into what may be one of the most gorgeous smartphones ever designed. Its innovations and dedication towards research and design also resulted in the camera setup receiving one of the highest DxOMark scores to date from the leading image quality and lens rating website holding a top-spot globally. This achievement is testimony to our commitment towards our consumers to whom we aim to provide an enhanced user experience with every aspect of our products."
Even in dimly-lit environments, the HONOR 20 PRO is able to rise to the occasion owing to the presence of the OIS and EIS, which reduces the physical shakiness of the footage. Now taking photos at a birthday party where the lights are uneven or a restaurant with low-light will guarantee superior videography qualities.
The super wide-angle camera lens of the HONOR 20 PRO may often result in distortion, but the 16MP lens accompanied with specialized correction technology and Electronic Image Stabilization (EIS) has got your back. This feature can be used for shooting creative videos or can be the best solution to capturing large-scale events such as sporting matches and concerts. Click innumerable profiles of the Burj Khalifa with its striking background landscape to make your Instagram profile look like a piece of art.