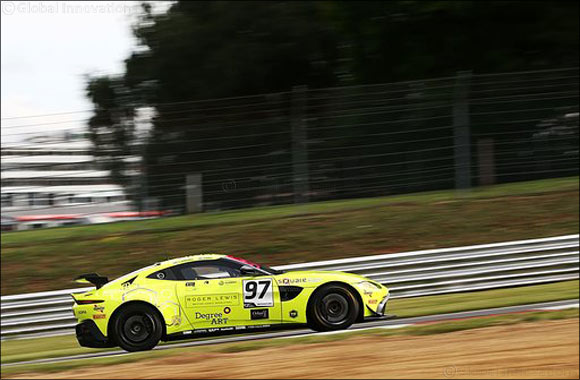 Aston Martin Vantage GT3 secures third successive British GT race victory • Partner team Optimum Motorsport wins British GT Silver championship
TF Sport maintains form as works driver Jonny Adam wins with Graham Davidson • Beechdean AMR closes in on seventh championship success with Aston Martin

Dubai, United Arab Emirates - 06, August 2019: Brands Hatch: Aston Martin enjoyed a red letter day at Brands Hatch as partner team TF Sport secured the Vantage GT3's third successive British GT victory with works driver Jonny Adam (GB) and Graham Davidson (GB). Meanwhile, Optimum Motorsport clinched its second championship in as many years as AMR Academy driver Ollie Wilkinson (GB) and Bradley Ellis (GB) won the Silver Cup title.

It was TF Sport's second victory in eight days, following the team's win in the Pro-Am class of the TOTAL 24 Hours of Spa. Reigning three-time British GT champion Adam, along with co-driver Davidson, produced a dominant second win of the season having initially trailed the Optimum Vantage GT3. But following a lengthy midrace Safety Car, Davidson handed the lead over to Adam who went on to score a record 16th overall British GT win.
This latest success puts the duo right in championship contention ahead of the finale at Donington Park on 14-15 September, and gives Adam the chance to defend his title and clinch an unprecedented fourth domestic crown. It also means they hold a 1.5-point lead in the GT3 Pro-Am standings.

"Today was a really important win for the team, and it also marked a nice personal milestone for me," said 2017 24 Hours of Le Mans class-winner Adam. "To grab our second victory of the season in the Vantage GT3's debut campaign is a great achievement, and most importantly it sets us up for another Donington decider for the championship. It'll be my fifth title-deciding finale!"

The Optimum Motorsport Vantage GT3, which won the last round outright at Spa-Francorchamps, started the race from the front-row and led early on before eventually finishing 11th overall, which
was enough to put it in an unassailable position in the Silver Cup championship with a race still to go keeps Wilkinson and Ellis in the overall championship hunt going into the decider.

"It's unbelievable to be crowned the British GT Silver Cup champions!" said series rookie Wilkinson, who is the first of the AMR Academy's 23 drivers to clinch a title in 2019. "We didn't dream we'd be able to achieve this at the start of the year, particularly as it's my debut series campaign and our first year racing the Vantage GT3. To have made the progress we have and score the results to match is amazing. Huge thanks to everyone at Optimum Motorsport for their outstanding efforts and kudos to Aston Martin for providing us with such a beautiful car to drive."

TF Sport's #97 Vantage GT4 crew of AMR Academy drivers Ashley Hand and Tom Canning go to Donington holding an 8.5-point lead after finishing third in class at Brands. Meanwhile Beechdean AMR came within a hair's breadth of clinching the GT4 Pro-Am title with its Vantage GT4. A class win for Kelvin Fletcher and Martin Plowman means they head into the finale with a 29-point advantage and need only finish seventh in class to seal the team's seventh major championship honour.

David King, President, Aston Martin Racing, said: "The Aston Martin Vantage GT3 has proved itself to be the class of the field in the British GT championship, which is an exceptional achievement in its first year. That it is as competitive and driveable in the hands of customers as it is professional drivers means that we achieved what we set out to do; namely produce a classleading, user-friendly GT car. The fact that Vantage has already earned a title five months into its homologation, and is in contention for several more class championships, suggests that it can go on to have a long and successful history in the category."