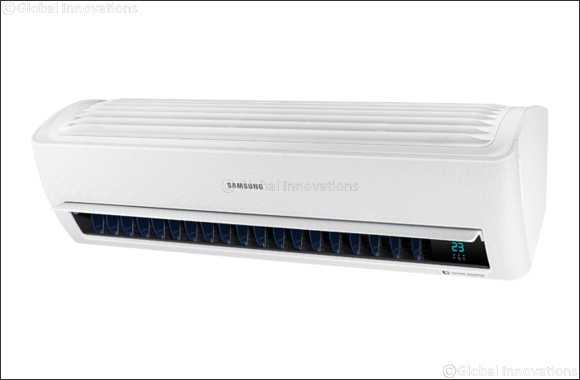 Stay Cool, Wind-Free this Summersummer

Dubai, United Arab Emirates - 25, August 2019: With summer in full swing, consumers in the Middle East are experiencing the hot and arid conditions that the warmer months are renowned for. Flocking indoors to escape the humidity and heat is a common occurrence for all people living in these climes climates, especially since one thing they can't control is the weather.
However, Samsung's Wind-Free™ Air Conditioner innovations are helping consumers enjoy full control of the climate inside their homes. Samsung's Wind-Free™ cooling technology is the perfect innovation to keep homes across the region cool and comfortable, without the unpleasant blasts of cold air that are prevalent with other air conditioning units. Thanks to a range of innovative features, such as energy efficiency, a two-step cooling system, and remote user capabilities through the SmartThings app, Wind-Free™ technology brings convenient innovations to all four corners of the room.
Convenient Cooling Control – Nothing is worse than arriving home and having to wait for the air conditioning to cool your home down. With the Wind-Free™ Air Conditioner, the waiting game is over. No matter where you are, you can take control of your home's climate with remote capabilities via the SmartThings App and the unit's WiFi capabilities. This means you can arrive home from a busy day with the peace of mind that your living quarters have been precisely cooled to your desired level from simply accessing the SmartThings app through your tablet or smartphone.
Faster Cooling, Wind-Free – Getting a living space to the desired room temperature in a hurry generally involves running an air conditioner at full blast. However, as well as being an inefficient use of energy, this also can have an impact on the lifespan of an air conditioning unit. Using a two-step cooling system, Samsung's Wind-Free™ innovation lowers room temperatures through Fast Cooling Mode before switching automatically to Wind-Free™ Cooling Mode to maintain ideal room temperature once reached.
Comfortable & Cool – The uncomfortable, breezy sensation felt from conventional air conditioning units can be unpleasant to say the least. That's why Samsung has eliminated the discomfort associated with direct airflow. By rethinking how air is dispersed, Samsung devised a unique vent system that closes once a room reaches the desired temperature. The Wind-Free™ technology then emits cold air through 21,000 micro air holes to maintain the ideal room temperature with gentle wisps of air.
Efficient & Eco-Friendly – Samsung's Wind-Free™ wall-mounted air conditioner reduces environmental impact, with energy consumption decreases of up to 80 percent, thanks to metal cooling panels and breeze-free air-cooling technology. With a Digital Inverter 8-Pole with POWERboost technology™, its motor also generates fewer torque fluctuations, which increases energy efficiency even more.
Healthy Home, Healthy Living – In addition to taking care of your home's environment, Wind-Free™ mode can also play a part in taking care of your family's health and wellbeing by reducing issues such as skin dryness and respiratory issues caused by continuous air conditioning exposure.