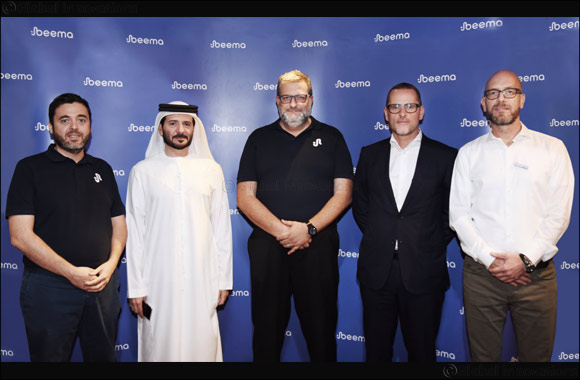 Beema today brings to market an innovative, first-to-region offering that will give UAE motorists up to 25% cashback on their motor insurance, based on the kilometers they drive. Beema was created following a joint innovation sprint by ENOC and BCG Digital Ventures, and in partnership with AXA Insurance.

United Arab Emirates, Dubai, 4th September 2019: Beema has today announced the region's first pay-per-kilometer car insurance. An innovative solution for the UAE insurance market, Beema gives customers cash back after one year based on the distances they drive. If, over the course of one year, the motorist has driven less than 20,000 kilometers, they can receive up to 25% cashback. Regardless of the distance they drive, customers will never pay more than their original quote.

Beema's story started in July 2018. As part of ENOC's accelerator program, NEXT, and in partnership with BCG Digital Ventures, the team undertook an innovation sprint to identify disruptive digital businesses. The team observed that many motorists in the UAE were being subjected to a range of offline car insurance services that failed to specifically tailor to their individual needs. In particular, customers were faced with the same policy pricing, irrespective of how much they drove - a common problem for multi-car owners. Beema's pay-per-kilometer model addresses this challenge, and, with a fully online experience, customers can easily obtain a quote in seconds and be fully insured within minutes.
Commenting on the launch, His Excellency Saif Humaid Al Falasi, Group CEO of ENOC stated, "In line with the UAE's innovation agenda, we wanted to offer a service that would truly revolutionize the insurance market and have broad appeal for drivers."
Underwritten by AXA, Beema provides the highest levels of motor protection in the Middle East. As such, it builds on and leverages the experience, security and service quality of AXA – ranked as the number one global insurance brand - to deliver truly comprehensive cover for customers. Policies with Beema also provide 24-hour accident recovery, guaranteed repairs and round-the-clock service.
Paolo Gagliardi, CEO at Beema commented, "Beema is all about convenience and value – providing customers with an insurance policy that provides full coverage and fits their lifestyle and driving habits. This offering was designed specifically with the UAE market in mind, knowing the diverse pool of driving needs we have in the country. Customers can rest assured that they are getting the best value for how much they drive as well as peace of mind that they are underwritten by AXA."
The kilometer reading is taken annually from the vehicle's odometer, so customers' journeys will not be tracked by Beema. To submit an odometer reading, customers can either easily upload a Tasjeel certificate, or can be visited to record their vehicle's odometer. Cashback amounts are then based on kilometers driven.