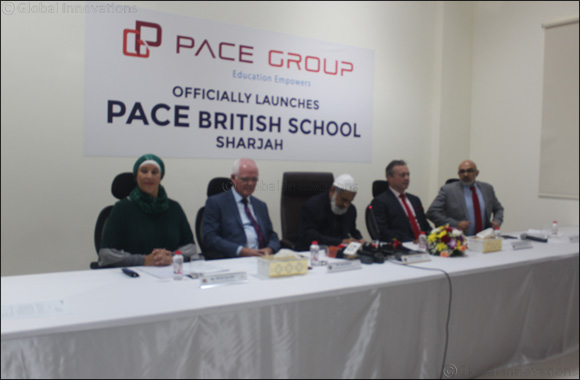 1. Dr P A Ibrahim Haji, Chairman PACE Group
2. Mr Keith Marsh, Chief Academic Officer, PACE Group
3. Mr Rueben David Flint, Principal, PACE British School, Sharjah
4. Mr Nasif Mohammed Elayyan, Vice Principal PACE British School, Sharjah
5. Ms. Nicole Gamble, Head of Early Years, PACE British School, Sharjah
PACE Group- Overview
PACE Group is a network of 17 Educational institutions spread over India, UAE and Kuwait, established under the leadership of renowned industrialist and educationist, Dr. P.A. Ibrahim. It was founded as PA Educational Trust in the year 1999. The Group is dedicated to offer an effective learning environment that encourages excellence and diversity.
PACE Group currently manages 17 Educational institutions catering to over 23,000 students from 25 nationalities, with over 2300 teaching staff and non-teaching staff. The group operates schools for students from Kindergarten to Grade 12 in British Curriculum as well as CBSE Indian Curriculum. PACE Group is focused on providing World- class Educational facilities to students at an affordable fee structure. It also manages several Higher Education institutions in India, serving to Engineering, Management, Polytechnic, Pharmacy, Physiotherapy and Arts & Science students. The Group also manages the University of West London, UK- Branch Campus at RAK, UAE.
Education is not meant for acquiring knowledge and information alone but translate them into action and activities for the convenience of man and human race as a whole.
- Dr. P.A. Ibrahim Haji Chairman - PACE Group
About PACE British School
PACE British School (PBS) established, on a budget of AED. 100 million, is the 2nd British Curriculum school, by the Group in UAE. PBS provides Premium British Education, at an affordable fee structure, in an expansive campus accommodating more than 4000 students. The school offers the EYFS and Primary curriculum for England & Wales and follows the applicable curriculum standards as specified by the UK Government's Department for Education. It is also ensured that the curriculum is delivered in the context of, and with respect to the United Arab Emirates. Therefore, the curriculum includes Arabic, Islamic Studies and Moral Education for both Arabs and Non-Arabs in accordance with federal laws.
The teachers at PBS are native English speakers hailing from the UK, USA, Canada and South Africa. They are internationally qualified and experienced in their respective specialisations, with ample experience of delivering the UK curriculum, preferably in the Middle Eastern context. They have a diverse set of skills but a common aim of providing the very best educational experiences for pupils and for each other.
The facilities offered at PBS are of the highest standards providing the finest quality learning environments. The students get ample opportunities to hone their skills using the facilities at the school, such as the Robotics, STEM labs, swimming pools, sports grounds, innovative learning centres and Creative Activity rooms.
Modern teaching methods are used in and out of the classrooms to ensure that children are put in a position where they can explore, question, reason, analyze and present their arguments to enable them to tackle real world problems in a proactive manner. PBS embraces the use of technology in the classroom, through more specialized focus areas such as Robotics and STEM- based education.
The outdoors, utilizing learner friendly spaces are key parts of our learning menu with sports being a critical part, with football, swimming, cricket, netball and basketball being the most popular, along with a myriad of Indoor games. The sports curriculum aims to foster excellence and develop key life skills such as team work, communication and leadership. Our activities programme will be expanded over the coming term to include other aspects of interest and learning including drama and arts.
Technology Partnership with Alcatel- Lucent Enterprise
PBS has recently entered into a Technology Partnership with Alcatel- Lucent Enterprise (ALE), for providing Complete Converged Solution to deliver superior teaching and learning experiences. The school has committed itself to ensure that its teachers and students have uninterrupted access to high-definition video content, access to the school's central learning management portal, and access to the Internet for learning support material and seamless connectivity.
Mr Rueben David Flint, Principal
Mr Nasif Mohammed Elayyan, Vice Principal
● Our focus: The education of children; academically and pastorally in the context of high academic standards delivered through the UK National Curriculum (UKNC).
● Development of the whole person is critical with guidance and encouragement of questioning, analysis, team working and good citizenship being central to our operations.
● We are helping build future citizens in a way that challenges the traditional education format. Instead of a recall-based education format, we foster an environment of collegiality and co-learning. One focusing on the future, supporting the UAE Government's Vision 2021.
● We seek the very highest educational standards for our pupils delivered through a proven curriculum (the UKNC) as well as through opportunities presented by STEAM (Science, Technology, Engineering, Arts & Maths) projects such as robotics, the arts and sports.
● Competing is a key aspect with our sporting focus being on Swimming for the short term with cricket, netball, basketball and football being developed in the medium term.
● Drama, Debating and The Arts are three other medium term goals that we as a school embrace and are laying pathways to achieve excellence within. Ultimately, competing at a high level in the WSC (World Scholar's Cup) is a clear goal as is recognition at the annual WRO (World Robot Olympiad) Association .
● Teachers are internationally qualified, regionally experienced and drawn from across the globe hailing from England, Ireland, Scotland, South Africa, Zimbabwe, Nigeria, Canada, Philippines, Palestine, Egypt and Jordan.
● We are a school that offers a personal service for all our stakeholders: Knowing our children, involving our families and offering a bespoke support service to all of our learners is key to what we do.
● As we develop, we will be seeking membership of organisations that enable us to develop and grow our excellence and demonstrate our credentials and quality in terms of what we offer. These include: British Schools Overseas certification, COBIS (Council of British International Schools) membership and membership of ISTA (International Schools Theatre Association) and BSME (British Schools in the Middle East).
● We are firmly and respectfully rooted in the UAE as our host nation and through our PACE parent organisation. These aspects of our community are ones which we are both proud and honored to be part of. In the same way that our host nation supports us, we strongly support the UAE and its Vision 2021 by offering the very best educational experience to all our learners regardless of background, ability or aspiration at a sustainably competitive price.
Mr. Keith Marsh, Chief Academic Officer, PACE Group
A good education is constructive in nature and promotes the feeling of physical, mental and social wellbeing. It helps the students to improve their status of mind, body and spirit. It provides us with confidence by giving us knowledge in many subject areas.
We know from years of experience that children learn at their own pace, but sometimes the traditional classroom makes it difficult to do so. With the integration of technology in education, children have the ability to slow down and go back over lessons and concepts, and more advanced students can move ahead. It also frees up the teacher to help children on a more one-on-one level.
Having access to other information outside of the traditional textbook gives students many different ways to learn a concept. Teachers can come up with creative ways to teach their students and keep them engaged. Technology has changed the learning environment so that learning is more hands-on. Schools throughout the emirates are diverse in income, and often children don't always get the resources they need. The implementation of technology in schools helps close that gap.
Technology helps make teaching and learning more meaningful and fun.
At PACE Group, it is our goal to provide the best education for all children, irrespective of ability that we can.
Here at PACE British School, we will be incorporating all the above values into school life. Through a commitment to engage teachers of the highest quality and provide them with a comprehensive Professional Development Programme, we will work with parents and the wider community to fulfill these goals.