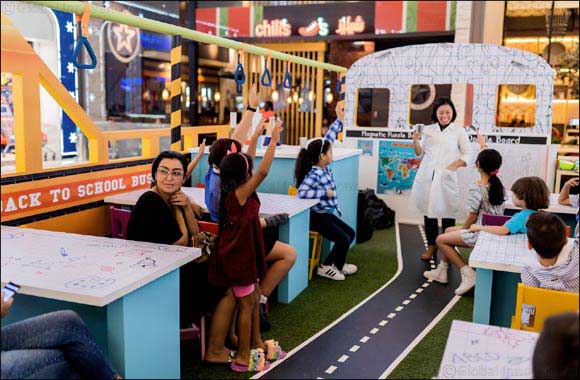 • As parents shop in peace, kids can play and learn with daily interactive workshops and entertainment
• Kids can also make a statement at the Customisation Zone by personalising their new school gear
• The campaign is running now until September 14
Dubai, United Arab Emirates, September 9 2019: The new academic year is already here, but families can still make the most of the back-to-school season as City Centre Me'aisem offers a captivating programme of after school 'edutainment' workshops for the kids. Until September 14, parents can enjoy a coffee break or take advantage of unbeatable offers at their favourite stores while leaving the kids at a daily programme of entertainment and learning in a safe and supervised environment.
Kids can enter the mall's custom-built school bus to keep their hands and minds busy with ice shows, slime making classes, science sessions, doodling, and face booking. All parents need to do to access the workshops is spend AED200 at stores including Carrefour and AED100 at stores excluding Carrefour.
What's more, the campaign also gives little ones the chance to stride back into the classroom with sky-high confidence kitted out with uniquely personalised back-to-school gear at the mall's Customisation Zone. Here, kids can add a creative touch to items including notebooks, water bottles, and other personal belongings with hand-painted designs of their choosing when parents spend AED500 including Carrefour and AED200 excluding Carrefour.
The campaign marks another rewarding back-to-school campaign from Majid Al Futtaim, owner and operator of City Centre Me'aisem mall, as the company moves to cement each City Centre location as a family-oriented destination for unrivalled shopping and entertainment.
"As families head to City Centre Me'aisem to shop for those last back-to-school items, the Fun School Bus promises a vibrant zone for kids to learn, be curious, and exercise their imagination and artistic skills," commented Maryam Ahli, Mall Manager at City Centre Me'aisem. "This back-to-school campaign is one of a number of ways we're seeking to cultivate a community-oriented experience for all of our visitors."
Where and when?
The workshops will run between 3pm to 8pm on weekdays (Sun-Thurs) and 3pm to 9pm on weekends (Fri-Sat), with the Customization Zone open between 3pm and 8pm on Thursday, Friday, and Saturday.
The school bus activation is located opposite Paul and Starbucks at City Centre Me'aisem's Entrance 1.