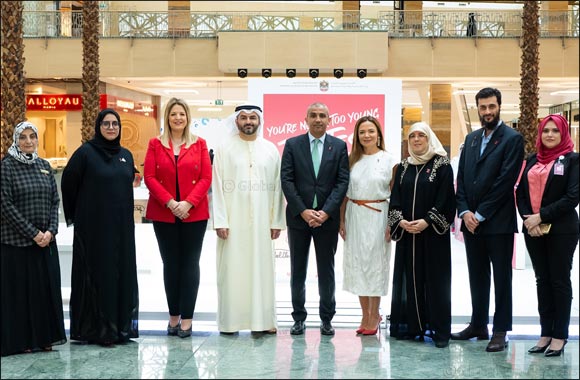 Complimentary heart health testing will be provided for women across the regional shopping malls to raise awareness of cardiovascular disease
Dubai, UAE; 14 September 2019: Majid Al Futtaim today launched its annual heart health awareness campaign 'Feel the Beat' across 12 malls in the region in collaboration with the American Heart Association, the leading voluntary health organization devoted to a world of longer, healthier lives, and Emirates Cardiac Society. For the 11th consecutive year, the initiative will offer complimentary heart-health screening for women in malls across the UAE, Bahrain, and Oman. Running throughout September and October, the campaign coincides with World Heart Day on September 29 and will this year be led in partnership with the UAE Ministry of Health and Prevention and Burjeel Hospital.
Confronting the prevalent rate of heart disease in the region, Majid Al Futtaim, the leading shopping mall, communities, retail and leisure pioneer across the Middle East, Africa and Asia, launched the initiative in 2009 to encourage more women to become aware of the risks associated with heart disease. Often considered to mostly affect men, a nationwide study conducted by Zayed University revealed that heart disease is the leading cause of death among women in the UAE. It also represents one-third of all deaths among women globally, according to the World Health Organization
The Feel the Beat campaign has grown over the years to inform and educate more of
Majid Al Futtaim's mall customers about the importance of looking after the heart as part of their overall physical wellbeing. The campaign also continues to spread an important message about detecting and preventing cardiovascular diseases at any age, with this year's initiative carrying the message "You're Never too Young to Test" as a reminder to younger mall guests.
"Feel the Beat is an important campaign in Majid Al Futtaim's annual calendar and highlights our commitment to the complete wellbeing of the women in our communities, while addressing one of our key sustainability pillars of heart health, to ensure future positive change. Last year we celebrated the campaign's 10-year milestone, but have always looked at how we can improve the initiative and most importantly, its outcomes." said Mr. Ibrahim Al Zu'bi, Chief Sustainability Officer for Majid Al Futtaim Properties, Shopping Malls (UAE, Bahrain & Oman). "In 2018 we tested 12,232 women in total, an increase of 19 percent from our 2017 campaign, while helping women with early detection. This year, we hope to exceed these numbers and encourage more women to consider the heart as part of their overall health and wellness".
Taking place at each mall's central galleria to reach more shoppers, the complimentary heart health screening will be conducted by medical professionals from Ministry of Health and Prevention (MOHAP) and Burjeel Hospital. Doctors will measure blood pressure, blood sugar, and Body Mass Index (BMI) to determine if the person is at risk of heart disease, before advising on a follow-up consultation and analysis if necessary. Visitors will also be made aware of the risks and warning signs of heart disease, which are often ignored.
"The Ministry of Health and Prevention prioritizes cardiovascular health through several initiatives and programs. Our aim is to improve the national indicators related to cardiovascular health as a part of the 2021 National Agenda objectives," commented a Ministry of Health and Prevention in UAE spokesperson.
"We are glad to be a part of Feel the Beat this year, which coincides with World Heart Day 2019. The campaign combines the efforts of different governmental and private entities in the UAE to help prevent cardiovascular diseases, and emphasize the importance of social responsibility."
Participants are encouraged to visit the following Majid Al Futtaim shopping malls for testing and screening:
City Centre Mirdiff (12 to 14 September)
City Centre Ajman (19 to 21 September)
City Centre Sharjah (19 to 21 September)
City Centre Bahrain (27 to 28 September)
City Centre Muscat (26 to 28 September)
Mall of the Emirates (26 to 28 September)
My City Centre Al Dhait (26 to 28 September)
City Centre Deira (3 to 5 October)
City Centre Fujairah (3 to 5 October)
City Centre Qurum (3 to 4 October)
My City Centre Al Barsha (6 to 8 October)
My City Centre Masdar (20 to 22 October)