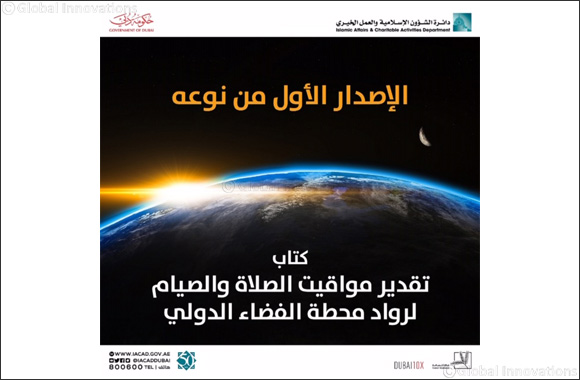 Dubai, 14 September 2019: Following the directives of His Highness Sheikh Mohammed bin Rashid Al Maktoum, Vice President, Prime Minister and Ruler of Dubai, the Islamic Affairs and Charitable Activities Department in Dubai (IACAD), launched a one-of-a-kind book titled: Estimating Prayer and Fasting Times for ISS Astronauts. The announcement of the book comes close on the heels of the launch of the spaceflight scheduled for 25th of September 2019, where the first Emirati astronauts will be on their maiden voyage to the International Space Station (ISS).
The book sheds light on the Fourth Industrial Revolution and its impact on religious activities such as prayers and fasting times for the astronauts on the ISS. The ISS revolves around the planet at high static altitudes - an estimated 400km – and at speeds up to 28.000 km per hour. Expectedly, the astronauts will see in one earth-day of 24 hours, 16 sunrises and 16 sunsets from the ISS. In essence, one day for the astronauts in the space station will be equivalent to 1.5 hours (90 minutes) rather than 24 hours as on earth. The question is: Will the Muslim astronaut pray on board of this station every 90 minutes? Five prayers, which is equivalent to 80 prayers during an earth day of 24 hours?
The book answers specific questions, such as: If a day in space is equivalent to 90 minutes, then will the astronaut fast for 45 minutes (half day) in addition to few minutes at dawn, and whether they will break their fast and eat for 45 minutes, representing half a day? Cumulatively, will they fast for a total of 45 hours per month in space timing, which is around 2 days on earth? Another question is how can the astronaut set the Qibla direction, taking into consideration the continuous movement of the station and its high velocity? Or, they can just neither pray nor fast because the task at hand is unclear? It's with these considerations in mind that this research has been published to answer specific questions and more when it comes to the astronaut's ablution and prayer.
"Estimating Prayer and Fasting Times for ISS Astronauts will be presented to the first two Emirati astronauts who will travel to ISS, by specialist in Times and Crescents Science, Mr. Hamad Mohammed Saleh, Senior Researcher at the Research Department in IACAD. The book will be handed to them by distributing a group of copies at Mohammed Bin Rashid Space Centre and the UAE Space Agency, before their scheduled flight on 25th September, 2019. Copies of the book will also be made available to all interested researchers and intellectuals.