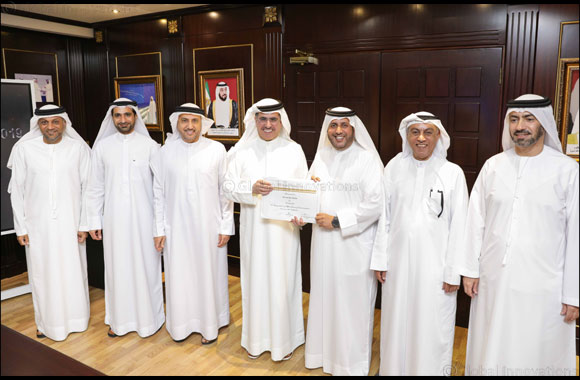 Dubai, UAE, 17 September 2019: HE Saeed Mohammed Al Tayer, Chairman of Emirates Central Cooling Systems Corporation (Empower), the world's largest district cooling services provider, honoured Ahmad Bin Shafar, CEO of Empower in recognition of his pivotal role in enhancing the cooling sector in the Middle East, promoting Empower internationally, and supporting global strives for environmental sustainability over the past 15 years. The honouring ceremony was attended by Empower board members.
Empower's efforts have contributed to achieving the vision of UAE's wise leadership to make Dubai the most sustainable city in the world. As a result of these efforts, Dubai has been crowned as the 'Champion City' for district cooling globally, with a capacity of nearly 2 million RT, on the sidelines of the 8th International District Energy Association (IDEA) Annual Conference 2018.
Al Tayer commended Empower's progress over the past years. Human resources and leadership, led by Bin Shafar, and his success in overseeing a distinguished team , are the main factors behind this success. Bin Shafar contributions and significant efforts in implementing strategies to achieve sustainable development also supported this achievement.
"This recognition is a culmination of Empower's efforts that have enabled it to become the world's largest district cooling services provider, over the past 15 years. It also confirms Empower's leading role in the field of district cooling globally. Empower has signed major agreements with international companies in the district cooling industry. Empower will continue to play a pioneering role in supporting the global district cooling sector and following the wise leadership's vision to transform Dubai into a global hub for clean energy and green economy. Dubai has adopted district cooling through Empower, to contribute to low energy consumption and hence, reduce carbon emissions," said HE Al Tayer.
he success of Empower's strategy, which has made it the world's largest district cooling services provider over the past 15 years, goes back to its reliance on providing district cooling services according to international standards. Empower provides environmentally and economically viable district cooling solutions for residential, commercial, office and hotel buildings. Empower acquired Palm Utilities in 2013, including its district cooling service entity, Palm District Cooling (PDC), from Istithmar World, which is considered to be one of the largest ever acquisitions in the district cooling industry, with a total value of USD 500 million (AED 1.83 billion).
From Dubai to the world, Empower launched the 'Owner's Guide for buildings served by District Cooling' and an updated edition of the 'District Cooling Guide', in collaboration with The American Society of Heating, Refrigerating and Air-Conditioning Engineers (ASHRAE), for designers and building owners around the world.
"This appreciation reflects Empower's success over the past 15 years, with our staff cooperating to make new and lasting achievements that drive us to move steadily towards the future. This recognition also drives us to work harder to keep abreast of the tremendous developments taking place in the world and Dubai," said Bin Shafar.
"In the coming years, Empower aims to strengthen the company's infrastructure. Empower currently provides district cooling services to more than 1,090 buildings, catering to more than 100,000 customers. The company operates more than 1.43 Million RT," concluded Bin Shafar.