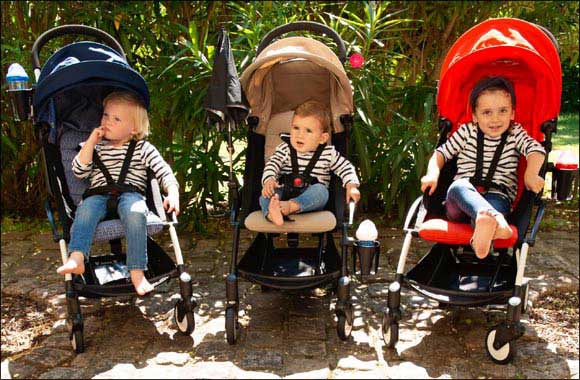 Inspired by baby gear that parents love
Dubai, UAE – 24 September 2019 – Pottery Barn Kids has recently welcomed a new and exclusive line up of baby gear, in collaboration with industry-leading brands for the first time ever. The collaboration enables parents to explore a wide range of essential products that are contemporary, innovative with optimum safety for their young ones.
The selection of exciting brands which are now available across Pottery Barn Kids stores will offer a new collection of strollers, stroller accessories, high chairs and diaper bags. Collaborating with brands such as Doomoo, BABYZEN, MIMA, Red Castle and Skip Hop, this new product segment will also offer comfortable baby accessories that parents and babies alike will fall in love with.
Strolls will now have a different meaning, especially when your baby is at the center of attention. The MIMA strollers are made of innovative EVA foam, which is moldable and easy to clean. The ergonomic and protective seat pot can also accommodate five different combinations for baby and toddler seating styles to be an ongoing part of your baby's first years.
Different stroller options will be available from BABYZEN, providing the stroller you'll need for everyday use, plus, you will become an expert at one-hand steering as well – it's difficult not to when your baby is around! The stroller can fold and unfold easily, and it can be taken as cabin luggage as well.
The quality-made bassinets from BABYZEN are your ultimate solution and will make tricky transitions from car to stroller a total breeze. Trust us, you wouldn't want to disrupt their naptime ever again. The cushioning is made with a sherpa fleece lining to make it even cozier for your baby. The headrest and color pack are available in matching colors as well, giving a fresh, chic look to babies.
New high chair product lines will also be available at Pottery Barn Kids, and the MIMA Moon High Chair is a 3-in-1 seating solution that grows with your child as well. The chair features a five-point harness to keep your baby safe and comfortable. The harness shoulder height is easy to adjust to secure your child and the chair is changeable to be used as a newborn lounger, then as a high chair and as an elegant junior chair as well.
Diaper bags will be mommy's, and daddy's, new fashion statement, and we've got you covered with the Skip Hop collection. You will not run out of pocket space with nine different pockets for ultimate organization and to hold everything you may need. The bag also conveniently features cushioned changing pads.
The new baby essentials also feature Red Castle's range of products and accessories, which are designed by highly qualified designers to ensure that safety, innovation and comfort are at the core of all their offerings. Also, since soft and comfort material are the necessities of every baby first memory, Doomoo's offerings include a selection of seats and their accessories, to ensure your baby's first memory is as comfy as ours.
The introduction of the new range and collaboration with the brands is the first-of-its-kind initiative by Pottery Barn Kids. It's launched with the purpose of continually providing customers with the essential products and accessories to help make their life easier.
The new range of baby essentials is now available in Pottery Barn Kids store in The Dubai Mall & City Centre Mirdif, Dubai. Dalma Mall, Yas Mall, The Galleria- Al Maryah Island, Abu Dhabi.