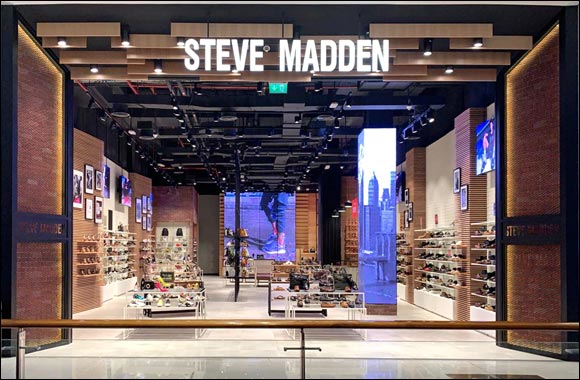 Dubai, UAE, November 07, 2019: American footwear mogul, Steve Madden, is set to visit the United Arab Emirates (UAE) on 10 November ahead of the iconic brand's 30th anniversary. Madden will kick-off the celebration in Dubai– a move that further confirms the vibrant, trendsetting city as the undisputed fashion capital of the Middle East. "I am always intrigued by the Middle East's fashion industry they are always game to experiment with new trends. I'm really looking forward to a great experience in Dubai," says Madden.

As part of the celebration, Madden will visit the brand's newly renovated flagship store at Dubai Mall, on 10th November, where fans and fashion enthusiasts will have the exclusive opportunity to meet Steve and receive his autograph and special prizes. The brand will also set up a three day pop up display in Dubai Mall, from 8th November to 10th November, showcasing Steve Madden's iconic shoe collection. There will be a host of fun activations at the pop up, where customers can win exciting prizes and vouchers from the brand.

Steve Madden as a brand has always believed in setting trends, either by way of their incredible styles or the unique customer experience they offer. The new Steve Madden store location has been designed with the modern customer in mind. The store layout and product displays will make navigation and shopping a more convenient and enjoyable experience.

"We are thrilled to welcome the fashion footwear mogul Steve Madden at our largest international store in the world in Dubai Mall. It's an exciting time for us as the brand is completing 30 years and the celebrations commence from Dubai in the presence of Steve himself. To mark this special occasion, there will be a series of activities at the Dubai Mall store and customers will also get a chance to interact with Steve. We are eagerly looking forward to Steve's visit and to a grand celebration," said Dinesh Shahani, Chief Operating Officer, Landmark Group

Speaking from his New York office, Madden said, "I am thrilled to be kicking off our 30th anniversary celebration in Dubai. I can't wait to experience this city. Fashion in the Middle East is thriving, which makes it a very exciting market for us as a brand."
In the coming year Steve Madden plans to open 12 new stores in GCC.