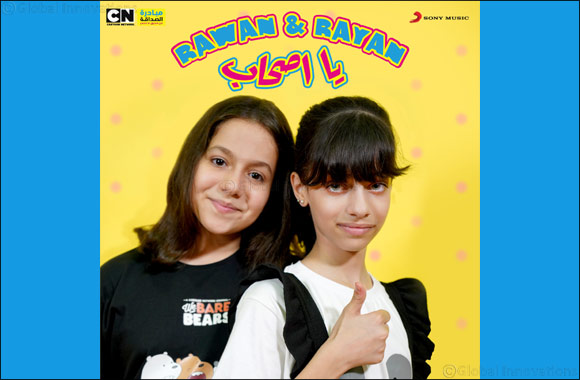 Sony Music's child stars Rawan & Rayan release inspirational Arabic song and video to promote inclusion and tolerance for all
Dubai, 11 November 2019: Cartoon Network Middle East has teamed up with Sony Music Entertainment Middle East to release a unique and impactful song featuring YouTube stars; the sisters Rawan and Rayan. The Song entitled "Ya As7ab (hey fiends)" speaks directly to children about the effects of bullying and shares positive messages around inclusion. The catchy Arabic pop song with an accompanying music video will be released worldwide on all music services and platforms on 11th November.

This initiative is a part of Cartoon Network Middle East's UAE-wide anti-bullying campaign 'CN Buddy Network' which encourages children aged 5 to 12 years to 'Be a Buddy, Not a Bully.' The music video was filmed at the Collegiate American School in Dubai and featured students sharing positive messages that address both bullies and those being bullied. The song can be viewed or streamed on Rayan and Rawan's YouTube channel, Cartoon Network's channel, TV and across over 400 global music services including Anghami, Spotify, Apple Music and Deezer.

Darine El-Khatib, Senior Director Creative Strategy and Brand Development at WarnerMedia MENA and Turkey said: "2019 marks the year of tolerance in the UAE, and so does the Buddy Network which aims to spread friendship through various touchpoints. Music is a powerful means to connect with people as it speaks directly to them, that is why we partnered with Sony Music to further reinforce the message of Buddy Network. Rayan and Rawan have a great connection with audiences in the Middle East, especially with children, so we are confident that they will be able to deliver the values and messages that counter bullying and hopefully can effect change."

Mike Fairburn, General Manager, Sony Music Entertainment Middle East, said: "Sony Music Entertainment is an inclusive organization and we are proud to partner with Cartoon Network in the Middle East to raise awareness of this important topic. Rawan & Rayan share this passion for positive inclusion and we are all extremely excited to launch this fantastic song and video as part of the "CN Buddy Network" initiative."

Cartoon Network Middle East's 'CN Buddy Network' initiative in the UAE is part of a global campaign introduced in 2014 and rolled out in the Middle East for the first time this year to educate children and parents about the effects of bullying, with practical ways to counter it.