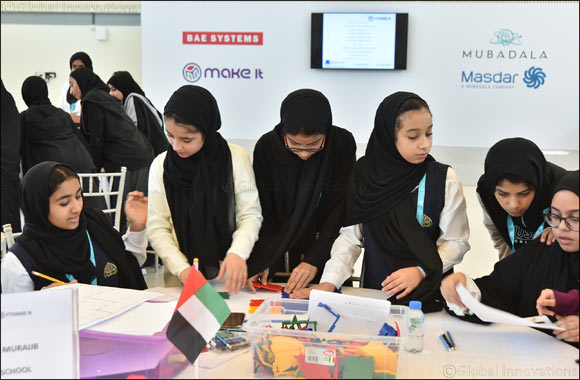 Dubai United Arab Emirates - November 11, 2019: The latest edition of the renowned "Make It Challenge" is taking place this week in the UAE, with more than 180 UAE national students attending from schools in Abu Dhabi and Al Ain.
The events, at the UAE University in Al Ain and the Khalifa University in Abu Dhabi, will promote STEM (science, technology, engineering, and maths) subjects through the practical application of knowledge and problem-solving exercises.
The "Make It Challenge" is an initiative of the UK Manufacturing Institute in partnership with Mubadala, Masdar, and BAE Systems.
This year's challenge will explore energy efficiency in the home, identifying how living spaces and lifestyles can be managed to reduce their environmental impact through better practices.
The teams of youngsters will be asked to design super-low energy structures including family apartments, villas and towers as well as eco-living units.
Ms. Fatima Al Marzouqi, Mubadala's Head of Emiratization, said: "The Make It Challenge, now in its fifth year, has been hugely successful in promoting careers in STEM and building knowledge and skills needed for the UAE's next phase of growth.
"The challenge, which utilises a wealth of expertise from our partners at BAE Systems, continues to inspire the next generation of innovators, creators and designers and we're very excited to see what this year's students can produce."
The students taking part in the Make It Challenge will be supported by professionals and volunteers from various UAE universities, Mubadala and Masdar, as well as BAE Systems graduates and apprentices.
The teams taking part in the challenge will all submit their entries to a panel of judges and the winners will each receive a 3D printer for themselves and their schools.
Mr. Andy Crisp, BAE Systems' UAE Director said: "BAE Systems is delighted to once again co-host the Make It Challenge in Abu Dhabi and Al Ain. The challenge inspires students to think about how they can minimise their environmental impact across a range of domestic environments."
In addition to the Make It Challenge, BAE Systems is currently providing two programmes for Mubadala interns in the UK. One with its Air sector for just over four months, based in Warton, and a six month placement with the Space sector based in Great Baddow, near Chelmsford in Essex.
Mr Crisp added: "BAE Systems is extremely proud to play a central role in enhancing the close ties between the UK and the UAE – a relationship which stretches back many generations – and nowhere is this partnership stronger than in the field of STEM internship programmes."