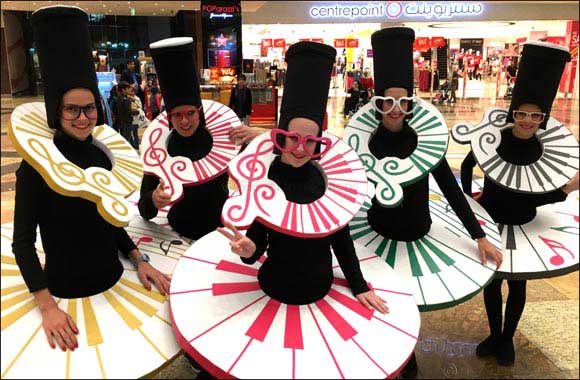 Dubai, United Arab Emirates, January 14, 2020: Dubai Festival City Mall shoppers can enjoy an array of activities as part of the DSF festivities in addition to the mall-wide sale with a chance to win a brand-new 2020 Lexus RX Hybrid.
Dubai, UAE, 14 January 2020: As part of the Dubai Shopping Festival (DSF) festivities, Dubai Festival City Mall is offering shoppers amazing deals with up to 50% discount across popular brands such as Robinsons, Guess, Kate Spade, Toys R Us, Marks & Spencer, Coach, Bath & Body Works, Under Armour, IKEA, Vincci, Adidas, Mango, Aldo, DKNY, Pandora, Clarks, Sunglass Hut and many others. Shoppers spending more than AED 300 at the mall will be able to enter the draw for a chance to win a brand-new 2020 Lexus RX Hybrid.


A range of entertainment has also been lined up to include Living Statues, who left the judges of Britain's Got Talent speechless with their performance. The hyper realistic human statues are performing at the mall on the 16th, 17th and 18th of January 2020 at 6:30PM, 7:30PM, 8:30PM and 9:30PM. Clocks Inner Life with their captivating characters living in a clock will come to life from 30th January until 1st February at 6:30PM, 7:30PM, 8:30PM and 9:30PM to entertain shoppers at the mall.


The mall is also hosting the largest Middle East LEGO Festival set to run from 8th January to 14th March, which will feature seven LEGO zones each celebrating a unique LEGO brand. Shoppers along with their families can enjoy watching the all-new and fifth IMAGINE show called "LEGO NINJAGO" every hour starting 6PM.


Whether visitors decide to spend the afternoon shopping or end the night as they dine watching the breath-taking IMAGINE show, Dubai Festival City Mall has it all. Head down to Dubai Festival City Mall before DSF ends on 1st February 2020 to save big, get rewarded and enjoy fun live entertainment and activities.
Activity

Date

Time

Location

DSF mall wide offers of up to 50% discount, raffle draw for a 2020 Lexus RX Hybrid

Until 1st February 2020

n/a

Dubai Festival City Mall

Living Statues Performance

16th, 17th and 18th of January 2020

6:30PM, 7:30PM, 8:30PM and 9:30PM

Dubai Festival City Mall

Clocks Inner Life

30th, 31st January and 1st February 2020

6:30PM, 7:30PM, 8:30PM and 9:30PM

Dubai Festival City Mall

LEGO Festival

(AED 30 per person to enjoy the 7 zones)

Running until 14th March 2020

4PM TO 10PM Weekdays

2PM TO 11PM Weekends

NINJAGO Zone - Festival Bay

Remaining 6 zones - indoor

IMAGINE Show: Pirates Tale, Stardancer, A Child's Dream , Hathi's Garden and LEGO Ninjago

Daily

A show every 30 minutes after sunset

Festival Bay