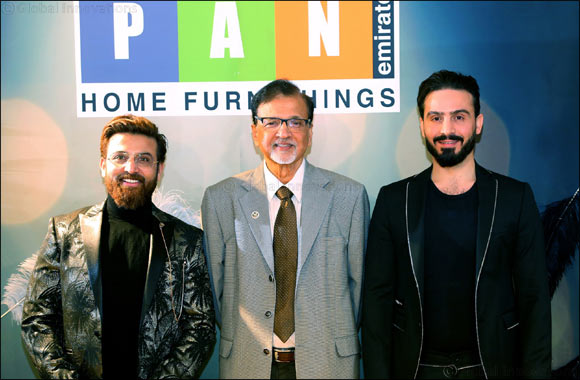 • PAN Emirates Al Barsha store completes 10 successful years and is ready to flaunt a refreshed look.
• PAN Emirates invests AED 2 Million on its Al Barsha showroom spanning across 300,000 sq. Ft to bring amazing changes for better customer experience.
• 10 Customers to be selected for 1000 DHS voucher each. In total vouchers worth 10,000 DHS to be gifted.
• PAN Emirates Al Barsha showroom will stay looking to reach out to residents of neighbouring localities with its distinct, affordable and stylish furnishing & decor collection.
Dubai, United Arab Emirates – January 30, 2020: PAN Emirates Home Furnishings, the leading home-grown indoor, patio and outdoor furniture brand in the region, hosted a success party at Al Barsha megastore celebrating completion of its successful decade. The exclusive party at the totally new megastore was witnessed by reputed dignitaries, interior designer, influencers and the media as well.
The home-grown furniture brand is enthusiastic to enhance customer experience and evoke a sense of awe with a glamorous new look of the store. The UAE and in the Middle East with an AED 2 Million investment towards creating a totally new concept store across 300,000 sq. ft. PAN Emirates Al Barsha Store is centrally located in Al Barsha, Umm Suqeim Road and it is accessible by the residents of Al Barsha, Jumeirah, Al Wasel, Springs, Emirates Hills, and beyond. Pan Emirates new store is looking to serve the residents of neighbouring areas with exceptional range of furnishing collection on unbeatable prices that caters to their distinct needs and changing preferences.
PAN Emirates has implemented various positive changes that will certainly impress customers and enhance their shopping experience to the next level of delight. A lot of stress has been given on the look and feel of the store. Hence, the interiors, fixtures and flooring have been upgraded to achieve enhanced look. The entire store has been realigned to keep the convenience of the customers in mind, by setting up the trendiest furniture on the ground level itself. Along with setting up all the accessories of various segments.
First and second floor have seen a major shift with the stunning rearrangement and revamp to uplift the look. First floor of the store is fitted with all contemporary, transitional and trending collections, whereas the second floor boasts variety of kids furniture, modern collection, best value buys, grab & go range, office supplies and solution oriented furniture. The store features an extensive range of collection, including Modern, Chic, Neoclassic, contemporary, Glam, sleek, solution-based and functional, semi-transitional products that are most affordable and value for money products. The brand wanted to offer convenience to its customers by aligning easy to carry living and bedroom items, that is why this store has a wide range of grab and go furniture items including poufs, coffee tables, shoe racks, chest of drawers, media units, nesting tables, and bar stools. The store also has cost-efficient offerings on corner sofa, sofa beds, dining sets, and mattresses, which are a great value for money.
The new store opening comes as part of PAN Emirates' ambitious business plans of achieving stronger customer loyalty and retention by maintaining quality and catering to their evolving wants. Speaking about the success, Mr Mohammed Katawalla, Group Finance Director, PAN Emirates Home Furnishing, said: "PAN Emirates is known for its popular product offering, great quality and affordable prices, and aims to strive for customer delight and making such investment even in the hardships of the industry to please their customers and achieve their delight. Adding further Mr. Mohammed Katawala says - 'We are investing on expanding and refurbishing few of our existing stores all over the region same what we did with Al Barsha mega store to give greater experience to customers while they shop with us. The new store launches and store expansion plans in 2020 are expected to drive the brand forward and help achieve new milestones, both in sales and brand preference."
It is evident from its recent plans that PAN Emirates is heading towards progression; thanks to the ambitious growth strategies and innovative initiatives from the stakeholders, operational development and marketing, & interior design teams who are dedicating their efforts to drive the brand forward and ensure it to secure a special place in the hearts of our customers and enrich retention and brand loyalty. Shop for the best in trendy furniture, home décor, kitchen and soft furnishings at PAN Emirates stores or on the PAN Emirates' website www.panemirates.com