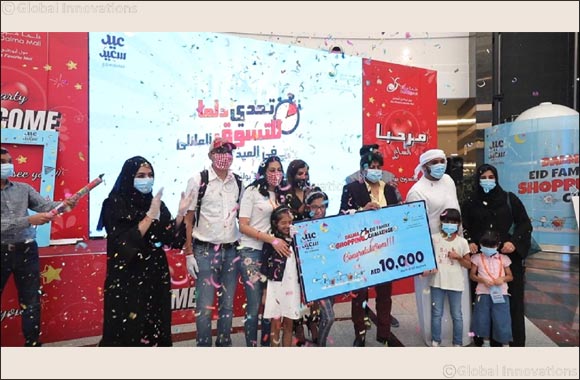 UAE, August 13, 2020: With an aim to reinstate the fun and happiness in Abu Dhabi, Dalma Mall hosted a thrilling episode of a nail-biting shopping spree challenge. The first season of this novel challenge was made up of over 1000 families from all over Abu Dhabi self-nominating for the final day of the shopping challenge. 7 lucky families were selected from all the entries, who won the chance for a free shopping spree worth DH1000 each and contested for the mega prize of a DH10,000.

The mega prize was claimed two families who won the challenge in jubilant tie-breaking victories. The lucky winners for the first season of this shopping challenge are Mohamaed Almarzooqi and family (Emirati) and Yuvaragi Rathore and family (Indian).

Commenting on the culmination of the challenge, Mr. Bhupinder Singh, General Manager & CFO, Dalma Mall said, "Navigating through the current situation, we ideated on unique and interesting ways to engage and enthrall our customers within the safety protocol laid by the Government. We are delightful to see the way our idea turned out and the success of this thrilling shopping game and having to reward our participants with useful and fun prizes. We saw the parents and children spend time and laugh together while trying to win this challenge."

This experience was further complimented by the month-long campaign of RAD Retail where exciting deals and offers enhanced customer visits, creating great moments for everyone at Dalma mall.

Dalma Mall always works towards its community and look at ways to add value in their lives. With this event the mall has proved yet again how to respect the safety of the consumers, while not compromising on the fun and family time.