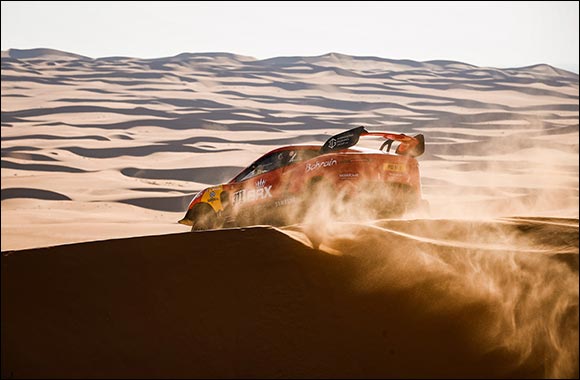 STAGE TWO: BISHA TO WADI AD-DAWASIR
DISTANCE: 685KM (228KM ROAD / 457KM SPECIAL STAGE)
Driver Stage Stage Difference to General Overall Difference
Ranking time 1st Ranking time to 1st
NANI ROMA 16th 04:38:32 +35:18 10th 07:59:13 +41:55
SEBASTIEN 6th 04:20:07 +16:53 7th 07:53:58 +36:40
LOEB
United Arab Emirates - January 05, 2021: Bahrain Raid Xtreme (BRX) took on the Saudi Arabian desert for stage two of the Dakar Rally 2021. Nani Roma and Sebastien Loeb had the chance to put the BRX Hunter to the test across vast stretches of open desert and rolling sand dunes for large portions of the stage. The two drivers set out from Bisha, with 685km of driving (228km road and 457km special stage) to contest, as they raced towards Wadi Ad-Dawasir.
After a strong showing on stage one, to climb up the rankings, Nani Roma started stage two in 6th position in the #311 Hunter. A fan of the expansive sandy conditions, Roma picked up where he left off and was chasing a spot in the top ten for the day's stage. However, after some navigational challenges, Roma finishing stage two in 04:38:32 and placing him 16th for the day, putting him 10th overall and with a +41:55 gap from the rally leader after two stages.
French BRX driver, Sebastien Loeb, had redemption on his mind, after a difficult first stage of the rally. Showing all his experience, Loeb, in the #305 Hunter, gave a snapshot of why he is a nine-time World Rally Champion. He pushed through the pack, showing the Hunter's underlying pace to finish in 6th position and complete the day's driving in 04:20:07, +16:53 of the leader. Loeb's performance puts him in 7th overall 36:40 behind the leader.
After putting himself 10th overall, Nani Roma commented: "It was a good but challenging stage. Some tricky conditions and terrain, but it was good to test the Hunter and we are happy with how the car performed. We lost some time because of navigation issues, but that is part of cross country driving like this. It's not all about speed, navigation is key. Overall, it is a positive day though, the time may not show that, but I feel positive with what we have learnt today."
Following an impressive performance, Sebastien Loeb added: "It was a much better day today. On the driving side, I did a good stage; I was pushing from the start to the end with no punctures or time stuck in the dunes. On the navigation side, we made a few mistakes, but it was incredibly tricky towards the end to see the tracks and find the way. We may have lost a little bit of time, but otherwise we did well, and we are where we need to be."
Richard Thompson, Bahrain Raid Xtreme Chief Engineer, commented: "The stage today was in excess of anything we have run in tests, so to see the way both cars cleared the stage, with no mechanical issues, is hugely positive. What was really encouraging was to see Seb absolutely flying at certain points of the stage, showing that the underlying pace and reliability is there. We need to build on that and push to win a stage."
Stage three of the Dakar Rally 2021 takes BRX in Saudi Arabia's 'empty quarter' with vast expanses of empty desert and endless dunes. A high stakes loop of the desert, with a number of fast sections, gives the drivers an opportunity to test the Hunter's top speed. 630km in total, stage three has 227km or road and 403km of special stage driving.