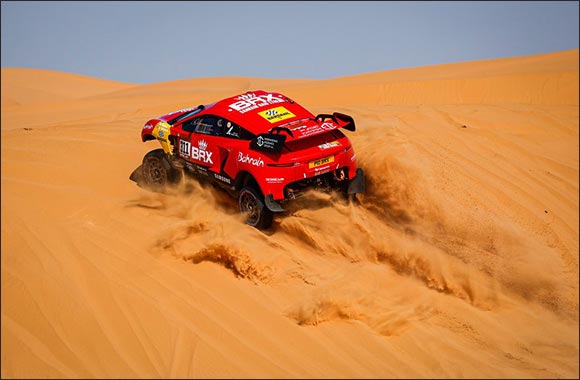 STAGE SIX: AL QAISUMAH TO HA'IL
DISTANCE: 517KM (170KM ROAD / 347KM SPECIAL STAGE)
| | | | | | | |
| --- | --- | --- | --- | --- | --- | --- |
| Driver | Stage Ranking | Stage time | Difference to 1st | General Ranking | Overall time | Difference to 1st |
| NANI ROMA | 7th | 03:58:00 | +19:33 | 5th | 23:50:58 | +1:36:55 |
| SEBASTIEN LOEB | TBC | TBC | TBC | TBC | TBC | TBC |
United Arab Emirates - January 09, 2021: Stage six of the Dakar Rally was all about desert driving and charting a course across a sea of dunes. The route from Al Qaisumah to Ha'il was slightly shortened for the competitive portion of the stage, making it 517km in total, split over 170km of road and 347km of special stage.
Nani Roma in the #311 Hunter has been consistently in the top ten of the general rankings, proving the pace and reliability of the car. For the sixth stage of the rally, Roma finished in 7th with a time of 03:58:00, +19:33 behind the stage leader, with a puncture adding a small amount of time to his day's driving. Roma's 7th place finish today puts the Spaniard in 5th overall, completing six stages with a total time of 23:50:58, +1:36:55 behind the leader.
For the nine-time World Rally Champion, Sebastien Loeb, in the #305 Hunter, it was a difficult day in the desert. Early into the stage, Loeb suffered suspension damage that required the Bahrain Raid Xtreme technical team to provide support, and for his Hunter to be recovered.
After completing stage six, BRX driver Nani Roma commented: "We really enjoyed the stage today. When we finished the stage I said to Alex, this is one of the most enjoyable days of driving I have had in years. I wanted to push today and see the speed of the car in these conditions, and to see the level of the car. It's good to know this and it went well. Going into the marathon stage, I am confident the car is really strong."
Richard Thompson, BRX Chief Engineer, added: "For the last two days, Seb has demonstrated some really good speed; it was unfortunate to receive a penalty on one day, and then navigation issues on the other. Unfortunately, today he suffered some suspension damage, which is disappointing, and we will have to look at the parts to understand what happened. However, the massive positive is that Nani's car had next to no problems finishing 7th on the stage. Nani was neck and neck with Carlos Sainz for a lot of the stage, and that is a real positive. For me it feels like a win for Nani."
The drivers have a rest day in Ha'il on the 9th January, before taking on the marathon stage of the Dakar Rally; 738km of driving from Ha'il to Sakaka, with 267km of road driving and 471km of special stage