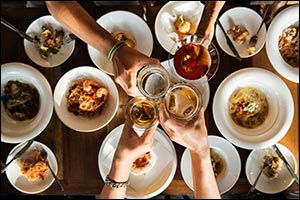 Dubai, referred to as the city of gold, is famous for offering the extremes of almost everything you can imagine. If you've been scouring the internet gleaming for as much information as you can before hopping on to the next flight to Dubai, this first-time traveler's guide can come in handy.
From the vast desert to the blue sea and from the tallest building in the world to the jaw-dropping malls, you must soak in as much of this world as possible. With excellent restaurants serving cuisines from all over the globe to the sunny beaches, Dubai is full of excitement at every step. If all this sounds a little overwhelming, take a deep breath as we cover everything from reaching Dubai to exploring everything this incredible city has to offer.
How to reach Dubai?
Well, flights to the Dubai International Airport are available from all the major airports in the US, Canada, China, India, Singapore, Australia, and Europe. From November to March is the peak season for tourists in Dubai, so you need to book your tickets in advance if you wish to be part of a huge crowd of foreigners traveling to this region. To compare prices, it is advisable to use a VPN. This tool replaces your original IP address with a different one. For instance, you might reside in the UK, but connect to a VPN server in Germany.
Since many services adjust prices according to clients' geo-location, you might want to jump to several countries before making the purchase. As a bonus, VPN will also be indispensable during your trip. Since internet connection is a necessity, you will attempt to get it anywhere you go. Wi-Fi spots might be available, but you should not use them without proper data encryption. A VPN will help you there. You can use a phone VPN to make sure that all your communications are secure. Chances are, you won't bring your laptop everywhere you go. So, your smartphone becomes one of the most important gadgets you own during a trip.
Book Dubai Hotels for Experiencing the Ultimate Luxury
Dubai offers you mindboggling options when it comes to apartments and hotels. From luxury beach resorts to palatial hotels, you can choose anything that suits your needs and budget.
Dubai can be broadly divided into two compact sections: Old Dubai and New Dubai. Old Dubai comprises of districts like Bur Dubai and Deira in the north while the New Dubai comprises of districts like Dubai Marina, DIFC, and Downtown Dubai located in the south. Traveling around the city is easy, and you can stay anywhere you want without missing the city's real pulse. If you intend to explore the options of a premium-class luxury stay, you can always choose deserts resorts like Bab Al Shams and Al Maha located at an hour's drive from central Dubai.
However, if you want to stay at the swanky hotels located in the heart of the city, you can always get a booking with The Palace Downtown, Armani Hotel, Al Habtoor City, and Business Bay. Beach lovers looking to have fun near the sea also have many options like Dubai Marina, Palm Jumeirah, Umm Suqeim, and Jumeirah Beach Residence.
Budget stay options are also available, especially in Old Dubai areas of Bur Dubai and Deira. Al Barsha has recently emerged as a place with several mid-range hotels for budget travelers. Since the government agencies and inspectors carry out regular checks to maintain hotel standards, you can expect the budget hotels to be hygienic and comfortable.
What to see in Dubai?
This question has been answered by several travel bloggers and enthusiasts. But believe us, there's a lot more to Dubai than just Burj Khalifa. Check out the Burj Al Arab as it houses the city's only 7 Start hotel and is located beside the Medinat Jumeirah, which represents an Arab city with a great history. You can always learn more about its history from tour guides and locals who're very friendly and welcoming.
Burj Khalifa - If you're fascinated by the Burj Khalifa, why not climb to the highest observatory and enjoy the breathtaking view from 550 meters above the ground? Don't forget to check out the Dubai Mall located at the base of the skyscraper along with the Dubai fountain with all the dance and music shows.
Dubai Creek - Take an abra (the traditional boat) to cross the Dubai Creek for a romantic evening while the sun sets on the horizon! If you want to get a feel of the old Dubai city, the abra ride from Deira to Bur Dubai can be used to explore the souks selling everything from gold to spices and from garments to antiques. Don't miss paying a visit to the Dubai Museum in the Al Fahidi Fort ad the Etihad Museum in Jumeirah that have carefully preserved the rich history of the magnificent United Arab Emirates.
Sand Dunes - Desert sojourn in Dubai is nothing short of an enigma for foreigners who are attracted by the spellbinding dunes, camels, and green oasis located in the desert sands. You can even choose to go for off-road trips to experience the real beauty of red sand dunes.
Water Parks - Dubai water parks must feature in your itinerary, and the two popular water parks in Dubai are AquaVenture and Wild Wadi. Both these water parks boast of river rapids and exciting slides, suited for both the children as well as adults.