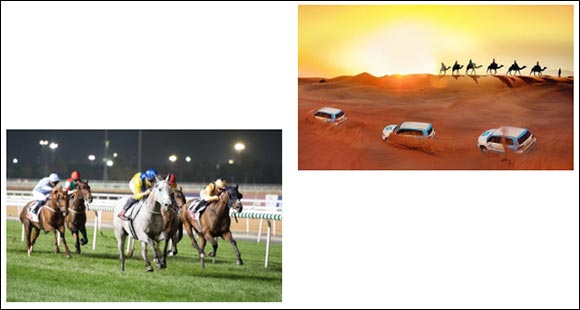 Not all places can boast the same high-level kinds of activities to do for both locals and tourists as Dubai. This wonderful city in the heart of the Middle East shines bright like a diamond in a black mine. Surrounded by huge desert regions, Dubai is the capital of anything that is thought to be impossible out there.
So, are you still wondering why millions of tourists want to visit this destination every year? We want to offer you a quick overview of the most representative activities that can make your vacation experience not unique but even incredible. It's what everyone tells around after a vacation in Dubai and, believe it, you will also think the same when getting back home. Let's explore Dubai together...
Get High On Adrenaline With Dubai's Best Adventure Sports
One of the most amazing things that you can only do in Dubai is to try extreme and adventure sports. This luxury hotel city is actually the main center in the Middle East where you can try a multitude of crazy thrilling sports all in one place.
Get ready for an unforgettable adrenaline rush with these adventure sports:
Car driving in the desert
With so much desert around, it would be a pity not to take advantage of an epic car driving on the dunes! Dune bashing is actually one of the most typical fun activities for Arabs. If you are going with family and kids, you can take them with you but remember that the limit age is 3 years. But if your kids are more than 3, you can spend a dreamy family adventure and take so many photos of yourself in the desert.
Snowboarding on the... sand
If you think you haven't seen enough sand yet, prepare to try a sandboarding experience. It's like snowboarding with the only difference that you'll have sand under your feet. In Dubai's desert, there are the tallest dunes where even professional sand boarders go for training.
Camel riding
You know horse racing, now close your eyes and imagine people riding camels. That's what camel races look like. You can join a camel race and even bet on your favorite camel - which is one of the most beloved things Arabs do when watching camel races. Also, Arabs are passionate followers of horse riding, too. In fact, the city organizes the popular Dubai World Cup every year for horse riding events and others like horse races. Tourists can go and follow the event while placing bets on the horses they think might win the race. Or, you can follow the events online and place your bets through your mobile or PC, this is also a very comfortable option for those who can't be there at the time of the race.
Look straight at the sharks' eyes
Most people think that sharks are the world's most dangerous animals. Are they really right? Discover it with a funny shark diving adventure. Dubai's aquarium hosts several diving activities for everyone. From the age of 10 and above, you can also swim among sharks as well as other sea animals.
Dive into the sky
Probably, this is only for those of you who are strong-hearted: skydiving is another top high-class adventure sport that you can try in Dubai. You can enjoy the majestic view of the city and its best districts from a height of 13,000 feet. You are allowed to skydive only if you are 18+ and your weight is under 100 kilos. For all the rest, prepare to jump off a plane with your instructor and let your body fly over Dubai's roofs!
Again high in the sky
If you really love being high in the sky for incredible fun, here is another adventure idea: bungee jumping. Dubai keeps the world's record for the highest number of bungee jumps in 24 hours... how can you forget to include it in your to-do-thing list? All you have to bring with you is your best courage and a lot of spirit of adventure. For this extreme sport, the minimum age is 14 years and the maximum bodyweight is 120 kilos.
A futuristic adventure sport between water and sky
Flyboarding is a new and absolutely futuristic sport to try in Dubai. Many cinemas and TV stars also tried it before. Flyboarding brings you halfway between the water of the ocean and the highest sky. You have to be at least 18 to try this new experience.
But if you think that Dubai is all in these things, prepare to discover more because in Dubai you can still try micro lighting, follow motor events, enjoy jet skiing, and so much more. Don't wait anymore, add these adventure sports to your vacation to-do-things!