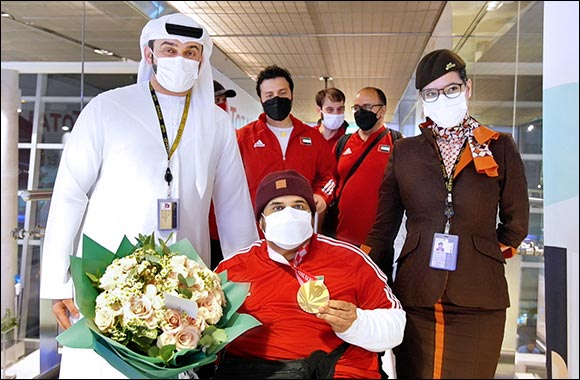 Etihad is the official carrier of the UAE Paralympic team
Abu Dhabi - United Arab Emirates: Etihad Airways, the national airline of the UAE, carried the UAE's Paralympic champions from Japan following their success at the Tokyo 2020 Paralympic Games. The UAE Team brought home gold and bronze medals for competing in the Athletics, Powerlifting, Cycling and Shooting.
Etihad flight, EY 0871, departed Narita Airport at 9pm local time on Sunday 5 September, the airline carried the victorious UAE para-athletes, coaches, medical and media crew. Etihad's cabin crew gave a hero's welcome to the champions as they travelled with the airline.
On arrival at Abu Dhabi International Airport, the delegation was greeted by His Excellency Mohammed Fadel Al Hameli, Chairman of the UAE National Paralympics Committee, members of the UAE National sports Committee and Etihad Airways representatives.
Amina Taher, Vice President Brand, Marketing and Sponsorships at Etihad Airways, said: "It is an absolute honour as the UAE's national airline to host the UAE champions on our flights. Over the years, Etihad has flown champions from many different sporting disciplines and world games, and we are proud to have this opportunity once again. As the official airline partner of the UAE Paralympic team and on behalf of the entire Etihad family, we send our heartfelt congratulations to these champions."
On 22 August 2021, Etihad hosted 32 members of the UAE Paralympic Committee on their way to the competition.
In the past week, the UAE participated at the Tokyo Paralympic Games with a 12-member squad, under the motto of "Determination and Perseverance". The athletes represented the nation in the sports of Athletics, Powerlifting, Cycling and Shooting.