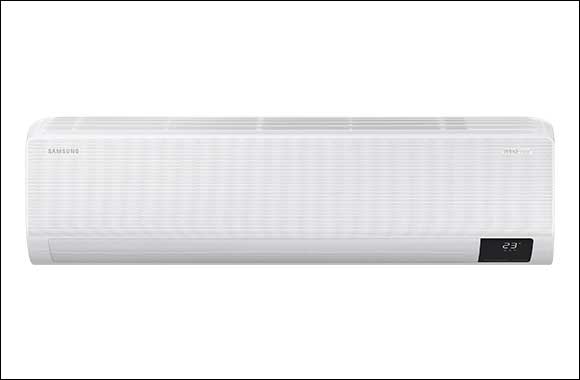 September 07, 2021: Considering the high satisfaction of consumers and notable acclaim from industry experts, Samsung's WindFree™ Air Conditioner (AC) has been nothing short of a revelation since entering the UAE market. Across the country, demands for next-generation AC appliances have increased consistently for years. Persisting difficult temperatures are unavoidable due to geographic location, and groundbreaking tech advancements in other areas have resulted in people searching for a product certain to provide several valuable benefits simultaneously.
In fact, these two factors inspired Samsung to set new standards in the local AC space and pursue a project that would accommodate the collective expectations raised by millions. Consumers have deserved an intuitive product that keeps them comfortable, cool, and healthy for generations – and this enduring wait has finally come to an end due to the far-reaching functionalities and powerful capabilities of Samsung's WindFree™ AC.
So, this leads us to two obvious questions: How has this possibility become a reality? What are the features that ensure people and families remain comfortable, cool, and healthy at all times? Here, Samsung not only provides the answers, but also product-specific insights and information to those who are yet to acquire this impactful innovation:
Intelligent and intuitive air conditioning
Samsung's WindFree™ Air Conditioner boasts several impressive features and one is the AI Auto Cooling feature, which effortlessly ensures every consumer remains cool throughout every season. The system automatically optimizes the temperature by analyzing room conditions and usage patterns, simultaneously monitoring the outdoor climate to provide a completely satisfactory cool level. Additionally, the unit is equipped with a Motion Detect Sensor that identifies when nobody is present in the room – switching modes in this instance to lower energy waste – and the SmartThings app, so users can also keep themselves cool by setting cycles and switching settings from their smartphone devices.
A new chapter in healthy tech-supported home living
Now more than ever, people and families are conscious about taking additional measures to help stay healthy – and next-generation products like Samsung's WindFree™ Air Conditioner can help. Besides the value of supporting an optimal home environment in terms of temperature, the unit is also proactive in supporting health and well-being indoors. Thanks to WindFree™ mode, traditional respiratory issues stemming from constant AC exposure are mitigated, as are other problems such as skin dryness and irritation.
Enhanced comfort for every member of the household
For Samsung, coolness and comfort were simultaneous priorities during the WindFree™ Air Conditioner design process. Today, this vision has become a reality for all to have purchased our unit. Keeping cool was mentioned previously, so how does the unit provide comfort also? The answer lies with WindFree™ cooling, which works to provide people with a luxurious environment. This feature evenly distributes AC through 23,000 air holes, ensuring people within the vicinity never experience regular or sporadic feelings of cold wind on their skin. What's more, the surrounding area is also cooled more evenly than traditional AC appliances with advanced airflow – providing an extra degree of comfort.