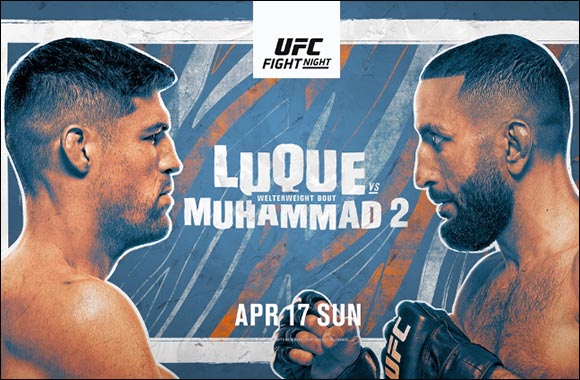 The Belal Muhammad Blueprint

Sunday, April 17

How to Watch:

Main Card: 4:30am GST (Sunday) on AD Fight, Starzplay and UFC Arabia
Prelims: 1:30am GST (Sunday) on ADM Sports 2, AD Fight, Starzplay, and UFC Arabia

The Breakdown
(#5) Vincente Luque vs. (#6) Belal Muhammad – welterweight bout
Belal Muhammad, ranked no.6 in the welterweight division, has a professional record of 20-3, is facing Vincente Luque (ranked no. 5), this weekend at UFC® FIGHT NIGHT: LUQUE vs. MUHAMMAD.

This is their second time meeting in the Octagon, with the first bout taking place in 2016. Luque managed to get the first win, with a KO in the first round. Since then, Belal Muhammad went on to fight 12 fights, winning 10 - including six of his last seven.
Climbing the ranks of the welterweight division, Belal Muhammad now sits at no.6, with his eyes set on UFC gold. With wins against Stephen Thompson and Demian Maia, Muhammad has faced top competitors, and a win against Luque can position him as a threat in the welterweight division.
Muhammad had a dominant run in the division since his loss to Luque, with both fighters now being ranked at the top of the welterweight division, one of the UFC's most competitive weight divisions.

The Local Angle
Belal Muhammad fought and won in Abu Dhabi in 2019, where he earned his first Performance of the Night bonus with the UFC.
With a large fanbase in the UAE and the Middle East region, Belal Muhammad proudly represents his home country of Palestine.
Belal Muhammad is a practicing Muslim and will be fighting in Ramadan.