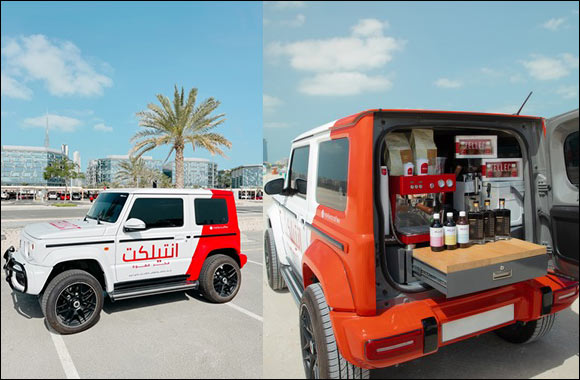 Delight your loved ones with Intellect's 'cafe on wheels'
Following the huge success of Intellect's C-Wagon launched at the beginning of Ramadan, the homegrown coffee brand is extending the most lavish activation for your Eid gatherings. This cafe on wheels (a literal coffee shop) comes to the comfort of your home, to give you and your loved ones an at-home experience that is sure to delight!

With Eid Al Fitr around the corner, it is the perfect opportunity to create unforgettable memories with Intellect's C-Wagon. This fun and one-of-a-kind activation is a fun addition to any festivity. The C-Wagon comes to you fully equipped with certified baristas, ultra-modern coffee equipment and locally roasted coffee beans.
The pop-up cafe supplies curated coffee drinks as well as an exclusive Eid menu, inspired by the region's exquisite and famous traditions. Made using the finest coffee beans, the limited menu offers a variety of flavours to accommodate all taste buds such as the pistachio latte, iced rose latte, iced saffron latte, jalab cooler, and their signature drink "Chilled Arabia".

The Intellect C-Wagon can be booked in two ways; either 'Dial a Coffee' and the mobile-cafe will arrive with its entire espresso menu (based on availability) or you can book them for a Private Event and the coffee brand will block off the time just for you.

The event service is the perfect way to celebrate the Eid festivities you are planning to host. It entails bringing the cafe to you, for a duration of your choice ranging from 1 to 3 hours, with a 500 AED minimum order for 1 hour, and a 1,500 AED minimum order for 3 hours. Special packages can also be designed based on your time requirements, with the option of female baristas for female-only events.

For the Dial a Coffee service, you can call to order a drink and the mobile cafe will arrive at your desired destination to serve you a freshly brewed specialty coffee with no minimum spend anywhere in Dubai. Available from 101AM - 11PM, this service is also available in Abu Dhabi, Sharjah, and Ajman for a fully redeemable minimum spend of AED 250.

Recently launched, Intellect C-Wagon has already helped create incredible memories with the lucky ones who gave it a try. Embark on this adventure and give your loved ones the ultimate treats they deserve this Eid!
Event Packages:

1 hour package
AED 600 minimum
DXB/ SHJ/ Ajman

2 hour package
AED 1000 minimum
DXB/ SHJ/ Ajman

3 hour package
AED 1500 minimum
DXB/ SHJ/ Ajman/ UAQ/ RAK/ FUJ/ AUH/ Al Ain