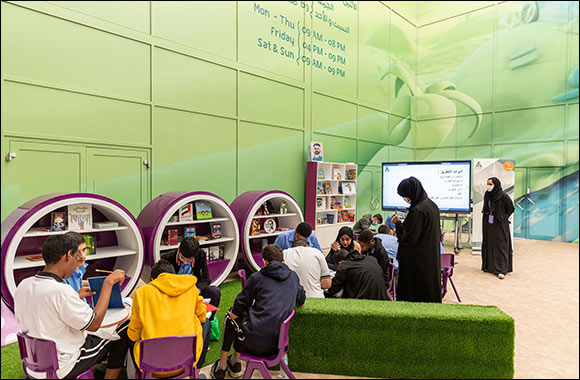 The innovative design of the stand at the Sharjah Children's Reading Festival has been drawing big crowds and inspiring young visitors to browse through books and read


Sharjah, May 12, 2022: The bookworm-shaped design of the Sharjah Public Library (SPL) pavillion at the ongoing 13th edition of the Sharjah Children's Reading Featival (SCRF) is an absolute stand out, and has been successfully attracting a steady stream of curious visitors, particularly children.
The unique pavillion design at SCRF is a continuation of the Sharjah Book Authority (SBA) affiliate's dedicated efforts to make the world of books and reading appeal to children and young adults.
Through their participation in the 12-day festival, SPL is focused on raising the awareness of children and their parents about the role of libraries in instilling the habit of reading in younger generations. The entity's platform is also offering researchers, authors and illustrators insights into the latest developments in the field of children's literature in the UAE and the region.
Visitors to SCRF 2022 can participate in a wide array of creative actvites SPL has designed to bring children and books together. These include storytelling sessions, cultural activities and workshops which will be held throughout the day, and target the age groups of 7 – 12 and 13 – 17 years.
All these sessions, which will be organised in the morning as well as the evening throughout the duration of the 12-day event running in Expo Centre Sharjah until May 22, have been designed by SPL to equip children with cognitive skills, to unleash their creativity and highlight the importance of books as a key knowledge source.