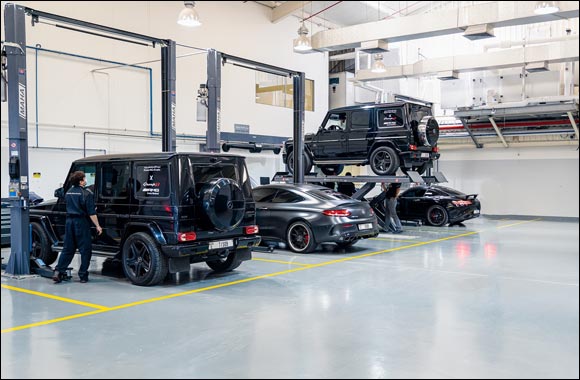 27 September 2022, Abu Dhabi – Emirates Motor Company, the authorized general distributor for Mercedes-Benz in the Emirate of Abu Dhabi, recently conducted an AMG service weekend at its newly expanded, state-of-the-art service center located on the Airport Showroom in Abu Dhabi.
The new facility covers an area of 13,500 square feet, and due to this huge expansion, the service center can now accommodate up to 18 cars at any given time. The workshop has undergone a comprehensive renovation in line with Emirates Motor Company's commitment to giving its clients the best possible service. Visitors to the showroom may see the workshop in its entirety, providing complete visibility and allowing customers to see the high caliber of work being undertaken.
To celebrate the expansion of the ultra-modern service center, EMC recently organized its first service weekend, which was entirely dedicated to the AMG range. The popular event provided customers with convenience and flexibility in their busy schedules – with the service center being open on Friday, Saturday, and Sunday.
AMG owners arrived at the EMC Airport Road service center, where they enjoyed exciting offers that covered labor costs, genuine parts, and Mercedes-Benz accessories, along with complimentary installation of the Mercedes ME Adaptor. The AMG-only service weekend was carried out in collaboration with Group 63, the world's largest group of AMG 63 owners, founded in 2009.
Khalid Al Mullah, Group 63 member, commented on the service weekend: "We were extremely happy to be part of this first AMG-only service weekend in line with Emirates Motor Company. Our AMG owners were thrilled to have the opportunity to service their cars by top-tier professionals. We are looking forward to many more collaborations with EMC in the future."
Ahmed Abdul Jalil Al Fahim, Chairman of Al Fahim Group, commented on the new service center: "We are always striving to improve, and we continue to invest heavily in all of our showrooms and service centers, with the aim of providing our customers with the highest quality of service. As we work together to create and provide cutting-edge solutions for the local market, our new, sector-leading facility reflects our dedication to Mercedes-Benz, a collaboration that has been continually expanding for more than six decades."
"We at EMC take great pleasure in the exceptional experience we provide to all of our clients. This advanced facility will improve our ability to offer every client the first-class care they deserve from a brand like Mercedes-Benz, highlighting our ongoing efforts to raise the bar in personalized experiences in this digital age," said Mohammad Ghazi Al Momani, General Manager at Emirates Motor Company.
-ENDS-