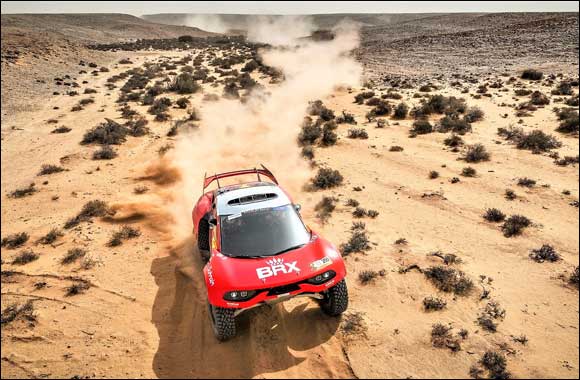 Loeb battles to keep Bahrain Raid Xtreme on top in world title race
Agadir, Morocco 4th October 2022: Frenchman Guerlain Chicherit snatched the lead in the Rallye Du Maroc today while Sebastien Loeb battled to hold his advantage in the World Rally-Raid Championship for Bahrain Raid Xtreme (BRX).
Chicherit, partnered by Alex Winocq in a Prodrive Hunter, completed another demanding leg in the Western Sahara Desert holding a slender outright advantage of 47 seconds from Loeb's BRX team-mate, Orly Terranova.
While a puncture and navigation problems lost Loeb his overnight lead on a stage won by Nasser Al Attiyah in a Toyota Hilux, the nine-time World Rally Champion still finished the day in third spot overall, 4 mins 50 secs off the lead.
He is almost 23 minutes ahead of the Qatari, his big rival in the race for the World Rally-Raid title, who lies fourth overall, with two more desert stages remaining before the finish in Agadir on Thursday. Prodrive Hunters are 1-2-3 overall for a second straight day.
Chicherit was denied a first stage win in the Hunter by his own puncture issues, and a navigational problem, but still managed the second fastest time on the 299 km competitive section.
"It was a tough day, like every day here," he said at the finish. "We tried to win the stage because the plan was to take the lead in the rally, so we got 50 per cent of it right."
"We made a mistake in navigation and lost a lot of time at this point. But rallying is like this. I love the car more every day, and now we are leading the rally with two more days to go, so we need to stay focused".
Loeb completed the stage to say: "We had one puncture, and that's average, but we were lost a few times for a little while, and I think everybody was a bit like that. But with one mistake we lost around 10 minutes. So it was a complicated day. But we are still in the fight, and we have to do better next time."
For a third day running, Chicherit showed his liking for the Hunter by setting the early pace, before Loeb, Al Attiyah and then Al Rajhi in turn took the lead on the stage over the first 186km.
But, as on the previous day, a series of punctures then took their toll, including one for Loeb and two, including a slow puncture, for Chicherit.
Rated as the most difficult stage of the rally, today's competitive section presented a combination of dunes, tracks and plateaux, adding up to a stern test of driving and navigational skills in the Western Sahara desert.
It was always likely to claim some casualties on a route which started and finished at the new Laayoune bivouac, where the rally was resting for a second night, ahead of tomorrow's 346 km penultimate stage to Tan-Tan.

Ends