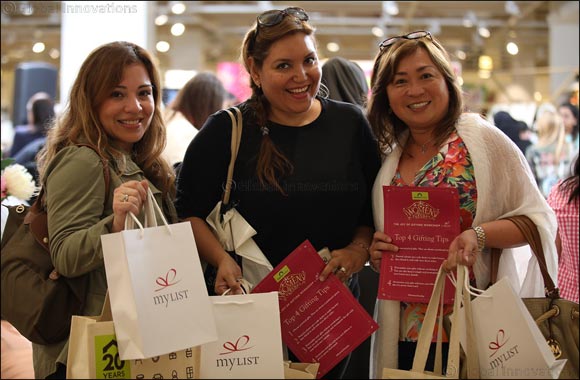 Dubai-UAE: 09 March, 2017: In a unique gesture that aimed to add value for its customers, Home Centre, the largest home retailer in the Middle East, marked the launch of its gift registry services, with a Joy of Gifting workshop that was hosted in collaboration with MyList, the Middle East's first online multi-store gift registry platform.
Held on 7 March at the Home Centre store in Mall of the Emirates, the workshop proved to be a fun-filled exchange of creative and gifting ideas for participants. The MyList gifting experts team made the evening even more special as they talked about customising gift solutions for various occasions and also spotlighted creative gift wrapping techniques. .
Personalised, easy to use and stress-free, the gift registry services powered by MyList enables customers to choose from an array of beautiful Home Centre gifts. The workshop also marked one year of the popular home retailer's efforts to engage with its women customers through celebrating Women's Tuesday. Home Centre's Women's Tuesday initiative offers women a wholesome shopping experience and a platform to enjoy some 'me-time'. The initiative provides ladies a host of privileges designed solely for them. These additional perks include personalised shopping assistance by dedicated Home Centre staff, free home delivery irrespective of value of purchase, free trolley assistance and an exclusive billing counter.