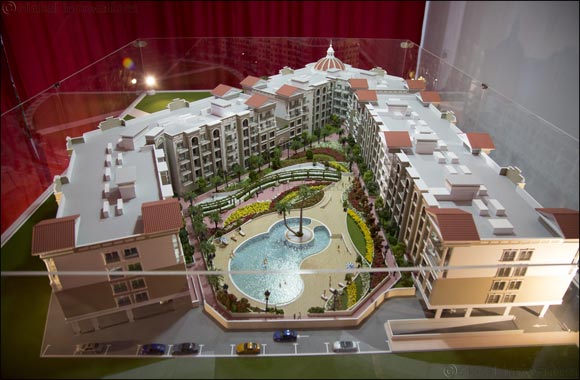 Dubai, March 14, 2017: Danube Properties, UAE's leading property developer, part of Danube Group, has launched a new realty project called 'Resortz', in Dubai's Arjaan neighborhood. The project was unveiled by Rizwan Sajan- Founder and Chairman of Danube Group, in the presence of media, brokers as well as senior management of the firm.
The AED 300 million project spans an area of over four acres and offers 419 apartments, ranging from studio to three-bedroom apartments and retail units. Moreover, the property boasts a beautifully landscaped areas, a resort-style swimming pool and a central dome, which resembles the Duomo in Florence.
Commenting on the launch, Rizwan Sajan, Founder and Chairman, Rizwan Sajan, said, "This is our eight realty project and I am extremely happy to see how far we have come in such a short span. Through our new project, we wanted to offer a vibrant lifestyle to potential customers by recreating a resort and giving residents a feeling of relaxation and comfort. We have ensured the best value is offered in terms of prices, facilities, services etc."
Resortz offers hassle-free resort-style living, with floorplans created to optimize living space, as well as state-of-the art amenities, including a health club, squash court, barbecue deck, jogging track and a multi-purpose room. The architecture of the project emulates the neo-classical era by combining traditional antiquity and Vitruvian elements, and uses a two-tone color concept for the entire property. Each home is fully furnished with a modular kitchen, complete bathroom fittings by Milano; and a European technology enabled convertible sofa that makes way for a bed- tucked into the wall. Moreover, Danube Properties is continuing with their famous one percent payment plan, allowing customers to pay as low as AED 4500 per month.
Recently, Danube Properties announced the sell-out of the Miraclz project in the presence of Sushmita Sen, who is currently the brand ambassador of Danube Group. All projects launched under the Danube Properties portfolio are currently under construction, with the handover of the first project- Dreamz scheduled to commence soon. At present, Danube Properties has an impressive book value of AED 2.2 billion worth of extremely successful projects with millions of Square Ft under construction.