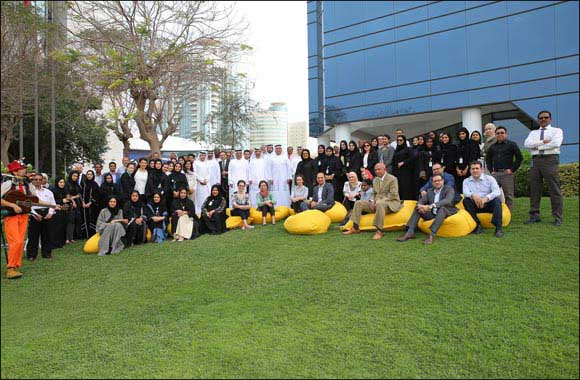 Chamber organised and hosted special event at its headquarters to mark the occasion
Copies of H.H. Sheikh Mohammed's new book "Reflections on Happiness & Positivity" distributed to guests
H.E. Buamim: Dubai Chamber is committed to supporting UAE Happiness Charter and improving satisfaction among our employees and customers
Dubai, UAE, March 20, 2017: The Dubai Chamber of Commerce and Industry celebrated International Day of Happiness by organising and hosting a special event for its staff and customers at its headquarters on Monday.
During the event, guests were treated to food, drinks, music, and recreational activities, in addition to a complimentary copy of "Reflections on Happiness & Positivity", a new book written by H.H. Sheikh Mohammed bin Rashid Al Maktoum, Vice President and Prime Minister of the UAE and Ruler of Dubai. The book includes unique perspectives, experiences, and lessons on achieving happiness and success in the field of government.
In addition, the Chamber organised workshops on happiness and positivity, demonstrating how these concepts are linked to enhancing productivity and competitiveness within economies and societies.
H.E. Majid Saif Al Ghurair, Chairman of Dubai Chamber, and H.E. Hamad Buamim, President and CEO, Dubai Chamber, attended the event, where they interacted with staff and customers and wished them well on the special occasion.
Addressing Chamber staff, Dubai Chamber's President and CEO explained that happiness is so much more than an ideal or lifestyle, but rather serves as a key pillar of productive and thriving societies.
H.E. Buamim noted that UAE government is leader in this area as it made ensuring happiness a top priority in recent years, adding that the Chamber remains committed to supporting the National Happiness and Positivity Charter by improving satisfaction among its employees and customers.