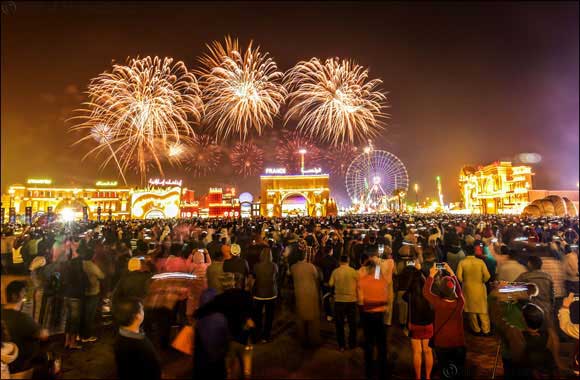 Dubai, 9th April 2017 – Global Village, the region's first and most successful multicultural festival park, closed the gates on its 21st season last evening on April 8th with a successful run that culminated with a record breaking attendance of 5.6 million guests over its 159 days of operation. Another astonishing achievement for the park was successfully maintaining a score of 9 over 10 in its Guests Happiness Index marking the great success this season had while spreading happiness across its millions of guests through wide range of cultural and entertainment experiences.
On its last weekend, Global Village hosted two back-to-back concerts on Friday and Saturday, which included the performance of Bollywood actor-director-singer, Farhan Akhtar on Friday and Emirati singing star Mohammed AlShehhi who entertained the crowd on Saturday evening. The last 2 concerts of the season were part of a total number of 27 concerts that took place at Global Village in its 21st season.
Entertainment has been at the forefront of the Global Village experience this season with some of the biggest Asian and Arab artists performing at its beautiful main stage with its superior acoustics and exciting stage visuals. A plethora of stars descended to the destination over the 5 month period which included names such as Nancy Ajram, Myriam Fares, Sunidhi Chauhan, Atif Aslam, Mika Singh, Mohammed Assaf, Cheb Khaled, Balqees, Tamer Hosny, and Majid AlMohandes amongst others.
With Global Village always taking it up a notch higher every season, this year witnessed many new highlights – one of the biggest being the specially created stunt show called 'Speed… Chase… Action!' that saw 30 world class stunt men and stunt experts performing exhilarating stunts for the amusement of guests across all ages. The show was conceived and produced by the in-house entertainment team of Global Village and a special stunt arena was built for the show with a seating capacity of 1,000 people. Guests were astonished to view the mind-blowing acts showcased at the stunt arena and were awed by the sheer scale of events, which was linked to an interesting story-line loaded with power, punch, comedy and great visuals.
Another popular highlight of the season was the newly themed 'Kiosks Street' which offered street food from over 30 cuisines from across the world. The special pathway was literally re-created to depict an actual street with lanes and street lamps with food kiosks lined up on both sides. The 'Kiosks Street' became so popular that guests began pouring in just to experience the international street food delicacies on offer, with the buzz word amongst guests being that Global Village had truly become the one-stop destination for the world's most delectable cuisines!
This season also saw the inclusion of new pavilions which included the Far East pavilion that represented cultures of Japan, South Korea, Indonesia, and the Philippines. Also being represented for the first time was the Algeria pavilion, and the Eastern Europe pavilion representing cultures of Romania, Serbia, and Ukraine. The Jordan pavilion was seen making a comeback from the 19th season to the 21st season for a total of 30 pavilions displaying the best of what the world has to offer in one place.
One of the newer additions this season was the inclusion of the 'heritage corner' in every pavilion. These sections were created to highlight the history and heritage of the cultures they represented. The inclusion of these educational sections was most appreciated by all guests as it helped creating a greater understanding of world's cultures and enriched the experience of every guest.
Big winning opportunities were made available to guests this season at Global Village, which gave away more than 2 million dirhams over the duration of 159 days, through a myriad of innovative engagements such as the 'Catch the Cash' game where winners were given a chance to win up to AED 250,000/- and weekly raffle draws where winners were eligible to win AED 100,000/- simply through the purchase of an AED15/- entry ticket into Global Village. Prizes were also up for grabs through social media competitions run by Global Village across its various platforms.
Ahmad Hussain Bin Essa, CEO of Global Village said: "All our initiatives and endeavours across each and every single touch point have been made with the singular vision of enhancing the guest experience irrespective of their nationality, age or profile. Global Village, especially in its 21st season, has strived to create a new experience every day for each and every one to benefit from – residents and tourists alike. The shopping, dining, funfair and entertainment experiences are authentic and of a world class level, which I believe is one of the reasons why Global Village has become a strong driver for tourism in Dubai. Our Guests go back to their homes with an experience of a lifetime, always wanting to come back for more!"
Ahmad Hussain added: "Being the premiere multicultural festival destination of this region, we are very conscious of our role towards increasing tourism in Dubai. Therefore, keeping this bigger vision in mind, we had tied up with 52 tour operators and increased our presence in opportunistic markets through exhibitions and road shows to showcase our destination and drive more international visitorship to Global Village in the 21st season."
Another achievement was marked during the season with the independent findings of YouGov Brand Index which ranked Global Village as the number 1 leisure and entertainment destination in the UAE as well as number 1 in Brand Buzz ranking as the most improved brand in the UAE! Global Village was also recognized at the Arabian Business Achievements Awards for its 'Contribution to UAE Culture'.
Global Village is committed to engaging with the resident community with a special focus on promoting the education of world's cultures to students across the UAE. For this purpose, the family-favourite destination visited over 40 schools throughout the season with its various cultural shows and interacted with more than 20,000 kids as part of its community out-reach programme, giving students a unique insight to the different cultures of the world and engaging them in entertainment and educational workshops.
Global Village closed its season completing 2.3 billion dirhams of business transactions while hosting over 95 nationalities of more than 10,000 exhibitors. The destination is now preparing for the much-awaited 'Global Village Awards Night' which will be held to felicitate the people and both private and government entities who contributed to the success of season 21!
Facts & Figures for Season 21:
• 159 days of operations
• 78 number of fireworks and fountain fireworks displays
• 600,000 soft toys given away at Fantasy Island
• More than 1.5 million cups of karak chai sold