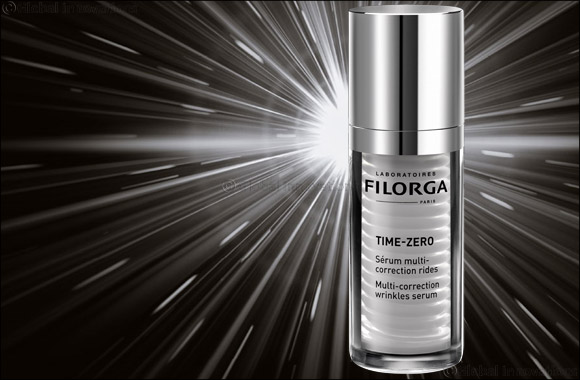 Dubai, UAE, May 11, 2017: Filorga, the first French aesthetic medicine laboratory takes inspiration from the latest advances in aesthetic medicine to develop a cutting-edge serum that can treat all types of wrinkles. By integrating active ingredients usually reserved for aesthetic medicine in a skincare formula, Filorga has created an effective concentrate to erase wrinkles in women aged 35 and above called Time-Zero.
Wrinkles are the first external signs of aging and there are four main types of them that tend to affect your skin. These include, deep wrinkles, fatigue wrinkles, contraction wrinkles and surface wrinkles, which are caused by various reasons. Filorga's Time-Zero Multi-Correction Serum is equipped to tackle all types of wrinkles as the ingredients contained in the product work in synergy to promote youthful looking skin.
The four main causes and its cure:
Deep Wrinkles
As we age, our skin tends to loose its cutaneous matter and as the volume empties from your skin, the grooves grow hollow allowing deep wrinkles to settle in to your skin. The cross-linked Hyaluronic Acid, similar to the ones used in Filorga fillers, contained in Time-Zero, help in boosting the natural production of collagen, therby effectively reducing the appearance of deep wrinkles.
Fatigue Wrinkles
Over time, cell renewal slows down, causing the epidermis tissues to become dehydrated, weak and thinner and this tends to show up on your face as fatigue wrinkles. Filorga's exclusive NCTF complex combines with other nutritional ingredients in Time-Zero to give your skin a polyrevitalising effect on the cutaneous tissue, which is similar to that of Mesotherapy. The result is, flawless smooth skin that is capable faster cellular regeneration and repair.
Contraction Wrinkles
Due to the contractions of muscles on the face, your skin is required to extend and retract continuously. Over time, this causes the skin to remain contracted without returning to its original states, which in turn leads to the formation of contraction wrinkles on your face. The two main active ingredients contained in Time-Zero work to prevent the release of the neurotransmitters that cause facial muscle contractions, thereby proving you with results that are similar to a Botox treatment.
Surface Wrinkles
The most common type of wrinkles, these are caused by the daily environmental stress that is exerted on the skin. The repercussions of this stress leads to the breaking down of the first barrier of your skin, thereby causing micro-splits on the surface of the derma, which leads to the formation of surface wrinkles. With two smoothing active ingredients, a retinol-like active ingredient extracted from criste marine rich in minerals and vitamin C, Filorga Time-Zero provides peeling-like resurfacing that leaves you with a smooth skin texture devoid of all superficial wrinkles, within just 28-days of use.
Perfect for use on its own or with other anti-aging creams from Filorga, the Time-Zero serum is suitable for all types of skin.
Filorga Time-Zero is priced at AED 395 and is available for purchase at Bin Sina , Boots, Supercare , Healthfirst pharmacies