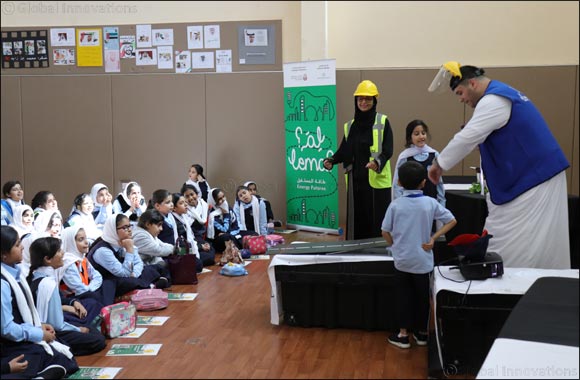 1,079 Al Dhafra school pupils inspired by special expanded 'lema?' session to mark Innovation Month in the UAE
Video highlights demonstrate the power of the fun interactive sessions as Innovation Month spreads across the Abu Dhabi Emirate.
Abu Dhabi, February 7th, 2018: Hundreds of school children in the Al Dhafra Region got a taste of Innovation Month yesterday as a special bumper 'lema?' session was held to mark the month-long UAE-wide event.
The Abu Dhabi Department of Education and Knowledge (ADEK) offered all four of its workshops and shows to children at the Al Marfa School, and surrounding
schools in the Al Marfa community, as part of its commitment to roll out a week-long programme of innovation-focussed events across the Emirate of Abu Dhabi.
Operated by ADEK - with the support of its Platinum Sponsor, Mubadala Investment Company - 'lema?', which means 'why?' in Arabic, uses the latest innovative techniques to inspire the next generation of leaders and innovators through a mix of fun-filled workshops and interactive shows covering the subjects of Science, Technology, Engineering and Mathematics (STEM).
The eager primary school pupils were certainly inspired by the four interactive sessions as they soaked up all they could from - Prepare For Take Off; Energy Futures Show; The Radio Studio Workshop; and Secrets of Space Show.
Ms. Fatima Al Zaabi, Programme Manager of Special Projects at ADEK, said: "There always seems to be an extra buzz when lema? rolls into the Al Dhafra Region and today was very special as we were offering all four of our workshops and shows in the same day for Innovation Month.
"Education, and STEM subjects in particular, are at the forefront of innovation and initiatives like 'lema?' are absolutely vital in inspiring the young minds that will lead us in the future to think outside the box to improve the world we live in.
"Watching and listening to these pupils as they enjoy the interactive lessons is truly inspiring as you can see and feel how powerful and positive an impact it is having. That can only be good for their futures and the future of the UAE."
Fatima Al Marzouki, Head of Education and Training in the Aviation Industry, Clean Energy and Information and Communication Technology at Mubadala Investment Company said: "The 'lema?' programme has contributed significantly in an educational role by introducing students in the UAE to STEM subjects and other disciplines to enhance their creative skills and enable them to accomplish important achievements in their careers.
"Our focus at this stage of the programme is to build a qualified generation of youth, who are updated on scientific and technological developments, which are rapidly accelerating, especially because UAE's national strategy for innovation is focused on building new talent across the nation with STEM capabilities. Our country is doing this to keep pace with the market in the coming years, which will raise a persistent need for graduates in these disciplines."
Held over the course of six weeks, three times a year, the 'lema?' roadshow visits public and private schools in Abu Dhabi, the Al Ain Region and the Al Dhafra Region delivering Arabic and English workshops and shows aimed at students in Grades 3 to 7, which have been designed to work within the current curriculum. Tailored workshops have also been designed to include schools and pupils of determination.
In 2017, 6279 pupils attended 'lema?' workshops and tours in the Al Dhafra Region and this week's sessions proved incredibly popular with 2,359 pupils attending from 6 schools in the area so far.
Qusai Mohammad, a Grade 5 student at Al Marfa School, said: "We really enjoyed the workshops by 'lema?'. It was a lot of fun learning through the show, especially because the science communicators are so funny.
"The part I enjoyed the most was the Energy Future workshop, when they turned water into energy by boiling it. I wish 'lema?' would visit our school more often."
The special 'lema?' session in the Al Dhafra Region is part of ADEK's exciting 'Innovator 2018' calendar of events created to mark Innovation Month, which brings together government bodies, the private sector and innovators in the Emirate of Abu Dhabi showcasing strategic initiatives such as the Abu Dhabi Science Festival, Program Your Idea Competition and Google Innovation Hub, reinforcing the UAE's efforts in global indices, such as the Global Innovation Index.
In the city of Abu Dhabi, 100 innovations, 25 innovative projects from government and private organizations, 27 science workshops, approximately 7,000 students in school trips and 35,000 visitors have been predicated to attend the event. While in the Al Ain Region, 600 students in school trips and 8,000 visitors are expected to attend six interactive workshops organized at three shopping malls.