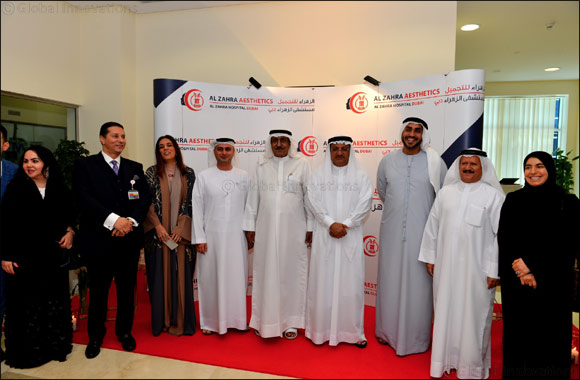 A pioneering venture with advanced beauty and plastic surgery procedures.
Now, get 5-Star treatment at Al Zahra Hospital's Aesthetic Centre in Dubai.
Centre opened at the hands of Al Zahra Chairman Shaikh Dr Faisal Bin Khalid Al Qassimi, in the presence of H. E Humaid Al Qatami, Director-General of Dubai Health Authority.
Dubai, 01 May 2018: The wait is over. Al Zahra Hospital presents Dubai with its first Aesthetics Centre in the heart of Barsha, Dubai. Equipped with state-of-the-art technologies, patients can now experience a discreet and memorable transformative journey. Inaugurated by Sheikh Dr Faisal Bin Khalid Al Qassimi, Chairman of Al Zahra Hospital, the Centre aims to establish itself as a premier aesthetics destination for residents and visitors alike.
The Aesthetics Centre has no equals in the region. It has been launched in response to the massive demand for quality medical services in Dubai and the country's ambitious plans to establish itself as a leading medical health destination.
Al Zahra Chairman Sheikh Faisal was quick to comment, "Inspired by the belief that you cannot separate inner and outer beauty we wish to offer new healthcare experiences to our patients in Dubai. Building on our success over years, we are keen to be in the forefront of innovation by adopting new technologies and best practices in the sector. We are also grateful for the continued support received from the DHA"
"Our strategic objective is to ensure a standard of excellence for the benefit of our patients and the community. We will also endeavour to work hand in hand with other public and private hospitals to promote the Emirates as a preferred healthcare destination recognised globally. Plans are now afloat for further improvements in our hospitals," Dr Faisal went on to add.
Managed by an international l team of specialists, the services in the Aesthetics Centre are vast and varied including: aesthetic dermatology, plastic and beauty-enhancement surgery, non-invasive aesthetic treatments, nutrition related services, and more.
Backed by 35 years of service to the Dubai community, the Centre is driven by the ethos of 'putting the patient first'. Hence, the focus is on serving patients and their families in the most conducive environment.
Al Zahra Private Hospital Dubai is located on Sheikh Zayed Road in Al Barsha and operates in compliance with Global Accreditation and International Standards. It has a capacity of 187 beds with state-of-the-art facilities. At the heart of the hospital's care for its patients is its personal touch and focus on clinical outcomes delivered through an evidence-based medical approach. The Aesthetics Centre is an exclusive facility that is part of the hospital. It spreads across 1000square metres.
Commenting on the inauguration, Dr. Mohaymen Abdelghany Al Zahra Hospital Dubai CEO said: "we are indeed proud of the opening and wish to make a difference to the aesthetic services landscape in Dubai. We are presently developing various programs for the benefit of our customers".
He added: "the launch of the aesthetic centre coincides with the opening of a dedicated Wellness Centre offering comprehensive check-up packages for both residents and visitors of Dubai. This is supported by a specialist hyperbaric oxygen therapy centre.
Dr. Mohaymen explained that AZHD as a leading medical services provider we aim to add value to the aesthetic services in the emirate and bring it in line with Dubai's rapid growth. Our patients are delighted with the sophistication and value of our services and are confident of growing from strength to strength. Our thanks go out to the DHA, the management of Al Zahra hospital and the dedication from our staff."
What separates Al Zahra Aesthetics Centre from other centres is its luxury hotel-like environment and cutting-edge technologies. This is backed by a team of internationally acclaimed doctors and surgeons. The Centre's focus is on ensuring a professional, supportive and memorable experience for residents and visitors alike.