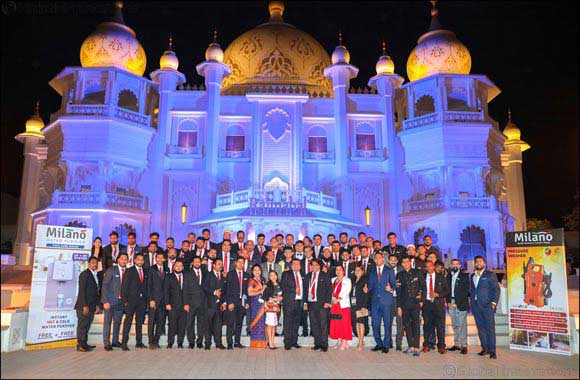 May 06, 2018 - Dubai, UAE: Milano, UAE's leading brand in sanitary ware, electrical, water purifier, hardware and tiles, held its annual gathering for authorized dealers on Friday at Bollywood Parks, Dubai where more than 400 dealers across the UAE attended the event.
Milano presented the latest product range to the dealers which included new variation added in sanitary ware, electrical, tiles, and hardware products. Joining the existing range of products are Milano Fix adhesive, Shower-head with micro fabric filters, PU Foam, Digital door viewer, Pressure washer and a new range of door handles. The dealers were given detailed information about the new products launched which resulted in on-the-spot order bookings.
Anis Sajan, Managing Director of Danube Group added, "With an increase of 35% in business growth last year, we have centered our position as leading provider in our industry. And our dealers have major contribution as they are the vital link between us and the customers and their performance has been outstanding this year. Milano is pleased to reward its dealers and we strongly believe in supporting them, ensuring that our business goals are aligned for collective growth."
Milano honored dealers and partners who achieved their annual targets with announcement of the incentive scheme. The winners, who successfully achieve their targets, will be taken on a lavish cruise trip. The business meet is conducted annually to strengthen the relationship and align the business goals with partners and dealers. The efforts of promoting Milano brand and its products were also highlighted in the meet. In addition, Milano also presented an entertainment act which was commended by the attendees.
The major focus of Milano brand is to strengthen the business strategy further alongside the vision to become top global player in the complete luxury sanitary ware, tiles, electrical products, water purifiers and hardware fittings. Milano plans to tap different verticals of the various business divisions in the years to come and expects an increase in its market share.