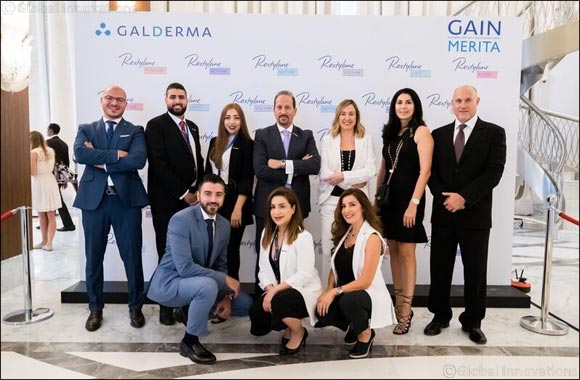 Event brings together 945 Dermatologists and Plastic Surgeons from across the Middle East, Russia, India, Turkey, and Africa
Dubai, UAE – 08 May 2018 – Galderma, Nestlé Skin Health's medical solutions business, in collaboration with Medica Group, the UAE-based total aesthetic and medical solutions company, have hosted the second annual GAIN Forum (Galderma Aesthetic Injector Network), bringing together 945 dermatologists and plastic surgeons from across the Middle East region, Russia, India, Turkey and Africa (MERITA).
Hosted in Dubai, the event is a key gathering of thought leaders and experts to present, discuss, share and debate the latest innovations, trends and best practice in Aesthetic treatments for facial contouring, wrinkles, rejuvenation and is instrumental in pushing the industry forward in the MERITA region.
Ahmed Hassan, Galderma Business Unit Head for the Aesthetic Business commented "At Galderma, our collaboration with healthcare professionals at the heart of everything we do. Our partnership with the dermatology community has helped us understand patients' needs and finding solutions for their problems. With this in mind, we have trained and certified more than 2,000 doctors across the Middle East, and today this approach has become a game-changer in the domain of Aesthetics. This GAIN event is an example of what we do to support medical education in the region."
"The GAIN Forum is the culmination of over 18 years of partnerships between Medica Group and Galderma", commented Elias Chabtini, CEO & Co-Founder of Medica Group. "Our ambition is to make this platform a catalyst for the development and advancement of dermatology and plastic surgery through sharing knowledge and expertise and building meaningful and strategic partnerships across the MERITA region.
A number of internationally renowned experts including Dr. Juan Sopena from Spain, Dr. Frank Rosengaus from Mexico and Dr. Ishaan Ramkisson from South Africa, hosted sessions sharing their expertise with other guests from across the region, focusing on topics such as personalised treatments, NASHA and OBT technology for best facial treatment and outcome and facial assessments
Tania Akl, Managing Partner & Co-Founder of Medica Group, added "Our partnership and collaboration with Galderma and the wider dermatology community is instrumental to delivering innovative solutions. I believe the GAIN Forum is the perfect gathering of the right thought leadership and expertise that will further develop this spirit of collaboration for the MERITA dermatology and plastic surgery industries. We're excited to what the future hold for all of us and look forward to continue working hand in hand with all our partners to deliver better treatments and experiences to our patients."