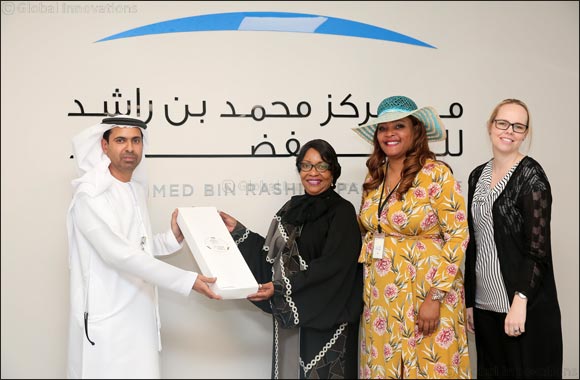 Mohammed bin Rashid Space Centre (MBRSC) inviting all universities to receive a two-piece ground station kit for students to access space data from Nayif-1 and other satellites
The first batch included three educational entities that were awarded with the kit
The kit using an antenna and a USB will enable the awarded entities to receive data directly from the Nayif-1 Cubesat and other satellites
Dubai, 9 May 2018: Mohammed bin Rashid Space Centre (MBRSC) has announced the awarding of three UAE academic entities – Abu Dhabi Education Council, University of Dubai and Al Ahad School – with the MBRSC ground station kit, meaning they can access data directly from space.
The kits are made up of a set of a simple antenna and a USB that can be plugged into any computer transforming it into a ground station, enabling students with the unique opportunity to access data from Nayif-1 Cubesat and other satellites. These kits are distributed with the aim of educating students about space and satellite operations as well as inspiring the youth to join the UAE space sector.
Nayif-1, the UAE's first Cubesat, launched into space in 2017, is an educational satellite led by MBRSC in collaboration with the American University of Sharjah (AUS). It was established as a knowledge-transfer program linking academic and professional institutions as well as providing hands-on experience to Emirati engineer students on designing, building, testing and operating nanosatellites. With MBRSC's supervision, the Cubesat was designed and built by seven Emirati engineer students from AUS with the objective of sending and receiving messages on Amateur Radio frequencies. Today, Nayif-1 is being operated from the main ground station located at AUS.
In addition to the first three academic bodies that will receive the kit, MBRSC is inviting all interested educational entities to apply for the kit.
Yousuf Hamad Al Shaibani, Director General of MBRSC commented: "Last year, we launched the UAE's first nanosatellite, Nayif-1, which is a significant stride in our journey towards the sustainable development of a vibrant and dynamic UAE space sector. The university students who participated in all phases of the space project are a living example of the success of our strategies towards building a knowledge-based economy, as well as a testimony to the leadership's determination to enhance the UAE's contributions to reviving Arab civilization. Through our collaboration with the educational sector, especially higher education, we aim to develop qualified national talent who are ready to lead and execute the UAE National Space Program. With this new move, we are enabling more entities to have access to this important space data without having to build a ground station, so this is a major step in opening the sector to contribute to our ambitious goals."