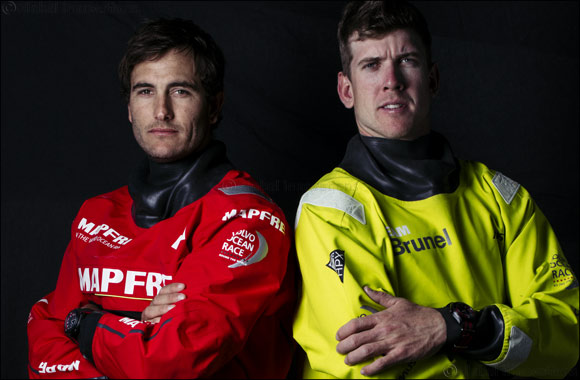 May 14, 2018 - Dubai, UAE: OMEGA is proud to announce that Peter Burling and Blair Tuke have joined the brand as its newest sailing ambassadors.
Peter and Blair are two of the world's most successful young sailors. As crewmates of Emirates Team Zealand in 2017, the two Kiwis lifted the famous America's Cup, a moment that also positioned Burling - then aged 26 - as the youngest winning helmsman in the competition's history. Four years earlier in 2013, they were both winners of the inaugural Red Bull Youth America's Cup, in which Burling was also the skipper.
Proud to welcome the two young sailors into the OMEGA family, Mr. Raynald Aeschlimann, President and CEO of OMEGA, praised Burling and Tuke for their 'drive to succeed at the highest level' and went on to say that 'Peter and Blair are both hard-working and easy-going, a unique blend of qualities. We're thrilled to have these two star sailors representing OMEGA'.
Together in the boat, Burling and Tuke have won 6 World Championship medals in the 49er class, including 4 golds from 2013, 2014, 2015 and 2016. In doing so, they became the first sailors to win four consecutive 49er class World Championships.
Burling and Tuke have also claimed two Olympic Games medals in the 49er class. Silver at London 2012 and gold at Rio 2016, where they won by a 43-point margin, the largest points margin of any sailing class at the Olympic Games in over 50 years.
The two sailors are also offshore experts. As part of the 2017- 18 Volvo Ocean Race, they are, in fact, on rival teams, with Burling on Team Brunel and Tuke sailing for MAPFRE.
For their incredible careers, Burling and Tuke have received many sporting accolades. In 2015, they were named the World Male Sailors of the Year by the International Sailing Federation. In 2016, they were New Zealand's Flag Bearers at the Olympic Games.

OMEGA is deeply committed to the support of sailing globally. The Swiss brand is a main sponsor of Emirates Team New Zealand and the Swiss Youth Sailing Team (TILT). OMEGA also became the Official Timekeeper of the Volvo Ocean Race in late 2017.