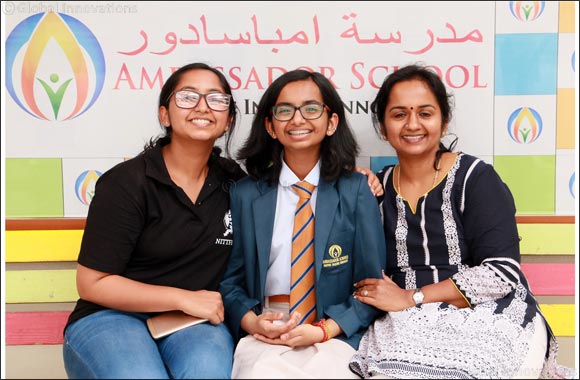 DUBAI – May 15, 2018: Ambassador School, one of the largest Indian schools in Dubai, has announced that its students emerged as global toppers in the examinations of Indian curriculum the Indian Certificate of Secondary Education (ICSE) for Grade 10 and the Indian School Certificate (ISC) for Grade 12.
The school's students achieved top ranking in the world and UAE in mathematics, commercial applications and computer applications with a score of 100 in these subjects.
Commenting on the outstanding result, Ms. Sheela Menon, Principal of the School, said, "We are extremely proud to share the exceptional academic results of ICSE and ISC students of the 2018 batch. Keeping up with the tradition of consistently nurturing toppers for the last three years, our students once again emerged the world and UAE toppers in mathematics, commercial applications and computer applications with a perfect score of 100 in these subjects."
Congratulating the students, she added, "The young Ambassadors have emerged winners, with each batch outperforming the previous one. The consistency in results validate the commitment and hard work of students, dedication of teachers and partnering of parents. Education excellence being the core focus of the institution, I congratulate our young achievers and wish them success in their future endeavours."
Ritika Ramesh is the school topper with 97 per cent score and centum in Mathematics. Pranav Chandnani scored 100 per cent in Commercial Applications followed by Neel Patira, who secured 100 per cent in Computer Applications. The ever-improving school average this year reached 89.2 per cent. Out of 29 students who appeared for the examination, a whopping 18 students scored above 90 per cent.
In the ISC, Science stream, Ashath Inamdar is the world and UAE topper with 100 in biology. Ashath is also the school subject topper in the subjects - English, biology, chemistry, physics and mathematics. In the commerce stream, Bianca scored 95 per cent. Alric Byju emerged as the school subject topper with 96 per cent in Computer Science and Mahek Sanghvi with 94 per cent and 96 per cent in psychology and sociology, respectively.