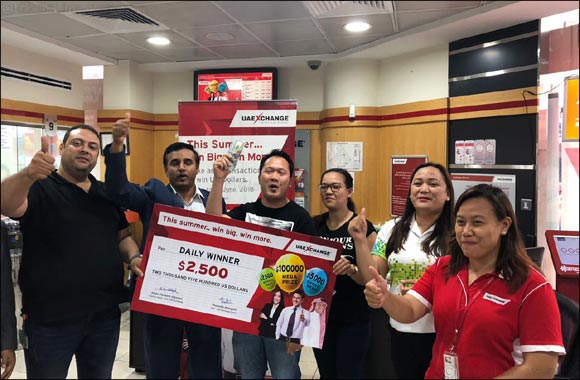 UAE Exchange Summer Promotion 'Win Big. Win More' offers $100,000 grand prize to one winner
6 winners to win $5,000 and 45 to walk away with $2,500 each
Dubai, 05 June 2018: This Ramadan, UAE Exchange, a leading money transfer, foreign exchange and payment solutions brand in the country, launched its summer promotion 'Win Big. Win More'. During this promotion, UAE Exchange is giving out 52 lucky draw cash prizes with the grand prize of $100,000. Apart from the grand prize, 6 lucky customers will win $5,000 and 45 customers will win $2,500 each.
"Our intent behind this year's summer promotion is to make a positive impact on the lives of as many people as possible. That is why we have a large number of cash prizes up for grabs including daily and weekly prizes apart from the mega draw. The active participation of all communities in our campaign is a testament in itself. We congratulate all the winners who have won so far and wish others good luck for the remainder of the promotion," said Abdel Kareem Alkayed, Country Head, UAE Exchange-UAE.
Open till 16th June, UAE Exchange customers who are remitting via UAE Exchange retail or digital channels, exchanging foreign currency, reloading gocash card, investing in National Bonds or is a Smart Pay employee collecting salary from UAE Exchange, during the promotion period stand a chance to win daily cash prize of USD 2,500, weekly cash prize of USD 5,000, mega prize of USD 100,000, and surprise gifts through on-ground and online contests.
More than 30 winners have been given prizes. Cherie Ann Alvarico Ravelo (the Philippines) and Mohamed Elsherif Mahmoud (Egypt) were the winners of weekly prize who won $5000 each. Other daily prize winners who won $2500 include Athitiya Nambuntre (Thailand), Abdul Hamid Noor and Muhammad Rashid Khan Shan (Pakistan), Abdul Rehman Haamza & Balwinder Singh (India), Ganesh Kaparl Kewat (Nepal), Patrick Waweru (Kenya), Prasanna Chandan De Silva (Sri Lanka), Raed Khader Fayyad Mahameed (Jordan), Rolando Tilacas Dela Cruz (the Philippines) and Saddam Hossen (Bangladesh).