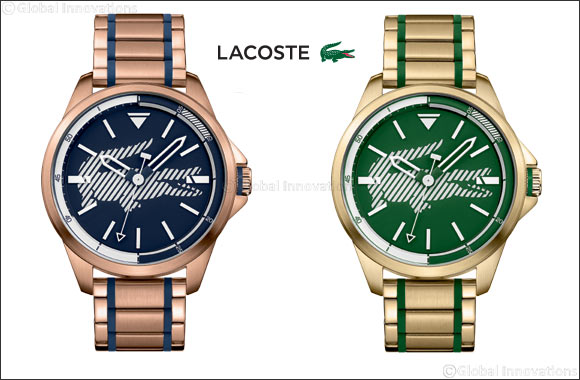 Dubai, UAE, July 09, 2018: A luxurious gentleman is easily spotted by his fashion sense and adding this treasure of a timepiece to your collection will ensure that your style exceeds the criterion.

The Lacoste Capbreton is undoubtedly the perfect illustration of a classy lad's watch for many different reasons. It features a 46mm dimensions with Rose Gold and Yellow Gold, its smooth 3-hand movement adds to the dashing demeanor of this time-keeper and its white contributes to the sophisticated flair of this whole piece. This is a timepiece that can keep up. It's also water-resistant to 5 ATM so a splash won't threaten its functionality.

This one's a show-stopper one that will effortlessly set you apart from the rest of the crowd in an instant.

If you're looking for a timepiece that can keep up with your upscale outings and deluxe style it's obvious that there's no need to look further. This Lacoste Capbreton watch is what you've been looking for!

The watches priced at AED 1,245 are available at Hour Choice stores across the UAE and online.