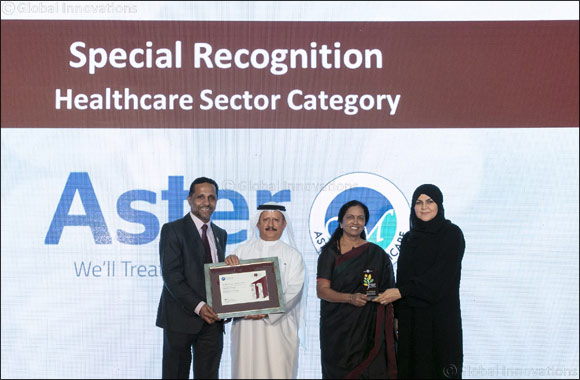 Dubai, UAE, 6 October 2018: At the 11th Arabia CSR Awards 2018, Aster DM Healthcare was felicitated with a special recognition in the healthcare category, for its outstanding contribution to the society through its corporate social responsibility programmes. The award was presented by Dr. Saeed Al Kindi- Former Minister of Environment & Water, UAE and Honorary Member of Emirates Environmental Group along with Dr. Radhiya Al Hashimi- Executive Committee Member of Emirates Environmental Group.
Commenting on the occasion, Dr. Azad Moopen, Founder Chairman and Managing Director of Aster DM Healthcare, said: "At Aster DM Healthcare, we firmly believe that profit should be a by-product in healthcare. Guided by this philosophy, we have been constantly exploring ways to give back to our society and environment. In all our endeavors our motto "We'll Treat You Well" is our guiding star, be it enabling access to quality healthcare to all sections of the society or helping people who are in need. We are very happy that our efforts have been recognized by the Arabia CSR Network."
The award is in collaboration with the United Nations Environment Programme (UNEP) and externally verified by one of the world's most reputed providers of business assurance, DNV-GL. The criteria of the award are derived from global and regional frameworks and standards, namely, the UN Global Compact Ten Principles, GRI and the European EFQM business excellence model.
Today, Aster's CSR programmes, run by Aster DM Foundation and Dr. Moopen's Family Foundation, are successfully running across 9 countries including GCC and India. Aster Volunteers programme which was launched on occasion of the Group's 30th anniversary in 2017, aims to bridge the gap between people who would like to help with those who are in need. Today, there are 8386 volunteers who have been able to impact 738,610 lives. Aster DM Foundation has been contributing across geographies over the years through its community dialysis centres, mobile clinics providing free healthcare in remote areas, early diseases detection & cancer screening centres, international disaster relief initiatives, and free check-ups and surgeries for the under-privileged.