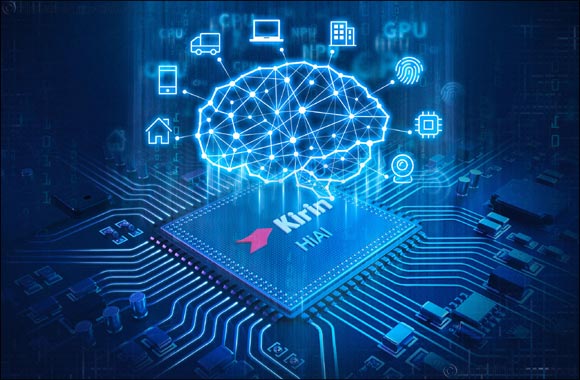 Dubai, UAE, October 09, 2018: The past decade of smartphone development has seen an interesting trajectory - from gigantic leaps in the early days to mere upgrades in recent times. The new phones launched recently tout slightly larger screens and Bluetooth pens that can hardly be considered innovation considering how technology is developing especially in the field of Artificial Intelligence.
On the journey from smart phones to intelligent phones, Huawei has been able to stand out from the competition by delivering technological innovation that is driven by Artificial Intelligence (AI). While other smartphone makers have been adding AI-enabled features to their phones through software downloads and upgrades. This is solely due to Huawei's focus on research and innovation According to the EU Industrial R&D Investment Scoreboard (2017), Huawei's R&D investment ranked number six, ahead of Apple at number seven. The company has 14 R&D centers globally and 45 percent of its total workforce is engaged in R&D. In 2017, Huawei spent US$13.23 billion on R&D, accounting for 14.9 percent of its total revenue.
Huawei's on-device AI breakthrough changed the game for smartphone users by delivering more reliability and security than cloud-based AI. This is clearly the way forward as we can see by Gartner's prediction that by 2022, 80 percent of smartphones shipped will have on-device AI capabilities, up from 10 percent in 2017.
In fact, recent smartphone launches by major smartphone vendors have failed to excite users due to the lack of groundbreaking innovation in their offering. However, with hype building up around Huawei's next flagship series launch, the Mate 20 Series, will bring breakthrough technology to the smartphone market with the world's first 7 nanometer mobile AI chipset, Kirin 980, containing a whopping 6.9 billion transistors. The power-packed 1cm2 processor will deliver 75 percent improved performance and 58 percent more power efficiency resulting in quicker app launch times, better multi-tasking, longer battery life and an overall smoother user experience. Huawei will launch its Mate 20 Series on 16th October in London, which will be followed by the regional launch for Middle East and Africa in Dubai on 24th October. The new flagship series will once again demonstrate Huawei's leadership in mobile AI innovation.
Huawei's latest Android -based operating system, the EMUI 9.0, offers an optimum user experience that is simple, enjoyable and consistent—and unlike any other operating system on the market today. Huawei has been continuously improving user experience with EMUI for six years, starting with 1.0 in 2012, with EMUI 9.0 delivering its best UI yet. The performance of the latest operating system is 12.9 percent faster than its predecessor and it has the ability to launch apps at a quicker rate. EMUI 9.0 makes Huawei one of the first handset makers to launch a custom operating system based on Android Pie.
Huawei's 'GPU Turbo' technology developed this year, is yet another Android breakthrough that addresses customer pain points through innovation. GPU Turbo provides an explosive performance boost for high-end gaming while also unlocking the potential for other applications such as energy efficient AR/VR for shopping, learning and entertainment. Combining software and hardware innovation, GPU Turbo delivers a gaming experience second to none, with a 60 percent improvement in graphics processing and power consumption savings of 30 percent.
The new EMUI 9.0 is great for gamers as it will include GPU Turbo 2.0, which is the second generation of Huawei's graphics processing acceleration technology and reduces touch response delay by up to 36 percent. It also features an App Assistant that cuts down on the interruptions during the gaming sessions. GPU Turbo 2.0 will support more games than ever offering a fuller gaming experience for avid gamers.
With the cut-throat line-up of flagship smartphone launches every year, true innovation is not easy. New breakthroughs take months and sometimes years of research and development. But with a track record of leading the pack in the future of mobile AI, Huawei is geared up for the next decade of innovation.