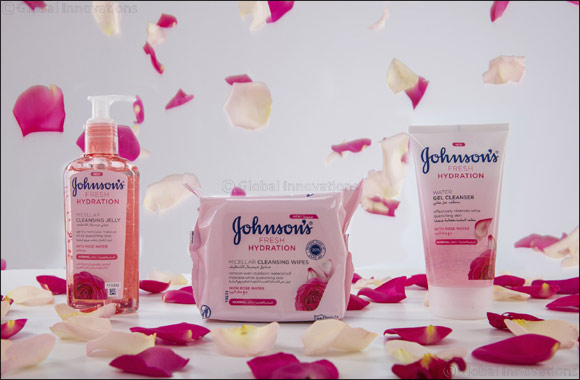 Dubai, UAE, October 10, 2018: Tedious makeup removal can now be a thing of the past with JOHNSON'S new Fresh Hydration range. Harnessing the power of micellar technology with the hydration of rose water, the quick and effective solutions remove 99 percent of makeup in just #oneswipe, keeping your skin cleansed, smooth and ready for overnight rejuvenation.
With the Middle East ranking among the world's fastest-growing regions for beauty and personal care products, Micellar Water has become one of the favourite beauty items. The GCC now accounts for almost 10 percent ($11.3m) of the $112.3 million global Micellar Water market . Made up of microscopic balls of water and glycerine (micelles), micellar solutions act like a magnet to attract dirt, oil and grime without stripping the skin – perfect for combatting the effects of harsh weather conditions on even the most sensitive skin types.
Infused with pure rose water, the entire Fresh Hydration range actively hydrates and refreshes the skin, ensuring a soft and soothed finish. In a new form to the Middle Eastern market, JOHNSON'S Fresh Hydration Micellar Jelly gently removes impurities and makeup, without rinsing – meaning all the benefits, without foam, water or fuss. The ultra-soft Fresh Hydration Micellar Cleansing Wipes gently remove everyday impurities and makeup (even stubborn waterproof mascara), while quenching the skin with refreshing hydration. The Water Gel Cleanser facial wash, cleanses the skin, removes makeup and hydrates all in one go, leaving skin as dewy as a rose petal.
"Daily cleansing and makeup removal is an essential step in maintaining beautiful skin," said Josh Noble, Marketing Manager Beauty, JOHNSON'S Middle East. "Failing to remove makeup before going to bed can cause extensive damage to a woman's skin during the night, as it ceases to breathe and accelerates premature signs of fatigue. With JOHNSON'S new Fresh Hydration range, the effective solutions remove impurities while remaining respectful of the skin's natural balance to avoid irritation.'
Suitable for all skin types, the Fresh Hydration range offers maximum efficacy with minimal effort, making it the perfect skincare go-to for busy mums, jetsetters and women on the go. With every bottle of JOHNSON'S skin care products, women can embrace the power of the gentle ingredients and rediscover true beauty inside and out.
Discover the range:
Now available:
Cleansing Micellar Jelly (200ml) – Dermatologically and ophthalmologically tested and infused with pure rose water. Like a magnet, this innovative formula with micellar technology instantly captures dirt, impurities and makeup, while quenching the skin with refreshing hydration. Suitable for sensitive skin. Pump directly on to a cotton pad and apply to face and eyes without rubbing – no rinsing required.
Micellar Cleansing Wipes (25 per pack) – Dermatologically and ophthalmologically tested. Removes stubborn makeup and impurities in just one wipe, leaving skin feeling soothed, hydrated and restored with a dewy finish.
Facial Wash (150ml) – Dermatologically tested. Its unique formula whisks away dirt and everyday impurities while quenching the skin with hydration. Suitable even for sensitive skin. Apply to wet face and gently massage in to lather. Rinse thoroughly.
Coming soon:
Day Cream (5oml) – Infused with pure rose water and SPF 20, the gentle yet efficacious day cream quenches the skin with 24hr hydration and protection from sun damage, contributing to great skin all-day long.
Night Cream (50ml) – Refreshing rose water recharges the skin with essential moisture while you sleep, ensuring you wake up with hydrated, enhanced skin.
JOHNSON'S® Fresh Hydration range is available at leading modern convenience stores, hyper-markets and pharmacies across the GCC. The JOHNSON'S® Fresh Hydration 50ml Day and Night Creams will be available in markets from October 2019.
Price Information:
JOHNSON'S® Micellar Cleansing Jelly retail from AED 26.65 (200ml).
JOHNSON'S® Micellar Hydrating Wipes retail from AED 26.50 (25 pack).
JOHNSON'S® Water Gel Cleanser retails from AED 25 (150ml).
JOHNSON'S® Day and Night Creams will retail from AED 24.7 (50ml).