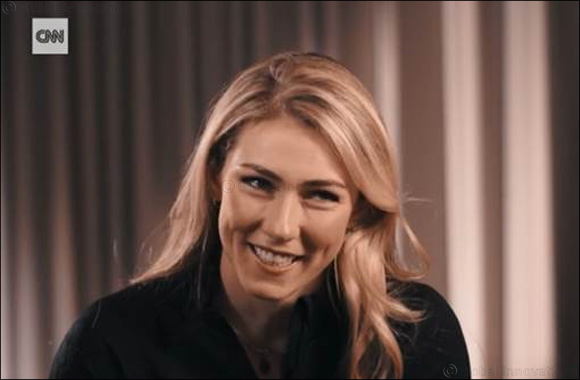 Dubai, UAE, October 31, 2018: Two-time Olympic champion Mikaela Shiffrin kicked off her bid for a third straight World Cup overall crown in Soelden, Austria, last weekend and will be chasing a fourth straight slalom world title at the World Championships in Are, Sweden, in February.
Alongside her summer preparation, Shiffrin earned a spot in Maxim magazine's Hot 100, traditionally a feature which celebrates physical beauty with the strapline "World's Sexiest Women". However, instead of posing in a bikini or an evening gown, Shiffrin chose to wear a white ski jacket with her 2018 Olympic medals around her neck.
In a wide-ranging interview with Alpine Edge host Christina Macfarlane, Shiffrin explains why she doesn't want to be objectified and feels compelled to use her social media presence to spread a positive message to younger generations.
Shiffrin also tells CNN she's determined to continue challenging herself and outlines her hopes for the season.
Key quotes:
Shiffrin on why she chose to pose in a ski jacket with her Olympic medals for her spot in Maxim magazine's Hot 100:
"I initially thought maybe I shouldn't do this, it's not necessarily the right image. But I have so much respect for the magazine and how they did it because they totally got it. For them to feel comfortable putting that in the Maxim 100 was incredible. The point for me was to say I'm here and I can be hot or sexy or whatever you want to call me but you don't objectify me because I'm in a bikini – I'm also pretty awesome based off my success in the sport. And for little girls out there growing up and they want to be something more than themselves… like, you're enough."
On why it's important for people with large social media followings to spread positive messages about body image:
"This day and age the image of what sexy is, is sort of changing. It's taking a lot of effort, it's taking plus-size models and more athletes who walk the red carpet, and for people to see that there's not just one kind of body type or figure that's sexy or one kind of face. But it takes a while and you still think, 'I want to look really beautiful tonight – I'm going to put on makeup, I'm going to do my hair.' The most important thing is that you just stay true to your own idea of what is beautiful."
On her motivation to be successful:
"I never feel like I can settle or be complacent, even with the success I've had. It's not that it's not enough, it's just that there's always another goal. With slalom I always feel I can be faster, with giant slalom, for sure, I can be more consistent. With speed I'm just starting and figuring it out so it's a new fresh event for me. It doesn't really matter how much success I've had – I still feel this motivation. I'm not finished you know."
On meeting her idol, 20-time grand slam champion Roger Federer:
"Maybe I got him on a good day, but he was kind, he was engaged with every single person that he spoke to. He was happy and smiley and easy to talk to. He put the effort in to make it easy. It was so cool for me to see that it's possible to be an athlete of his calibre and to be more elegant and more generous and nicer than what you expect. To see that he can still maintain this mature and modest attitude, I'm like, 'What is everybody else doing?'"